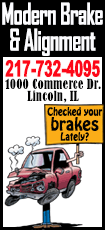 Todd Steinberg, Western Regional Manager for Topflight, presented Habitat President Cince Bowns with two checks totaling $3,000.

Bowns commented that the local Habitat organization was very grateful for the support of the local grain elevator as she delivered an appreciative hug to Steinberg.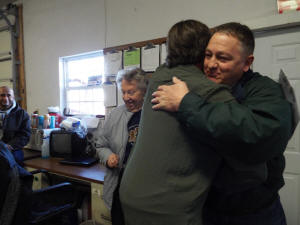 Steinberg explained that each year Topflight Corporate chooses to donate to worthy not-for-profits in the areas where they have businesses. In Logan County, Habitat was chosen because of the work it does to promote a better lifestyle for those in need. Steinberg said that at Kruger Elevator, north of Lincoln, he knows that there are farmers who come in and talk about giving their time to building projects because the homes built by Habitat improve the lives of families.
Steinberg also explained that two checks were being presented, one from Topflight and another of an equal amount from the company's financial partner CoBank. He said that Topflight determines how much it will give, and CoBank matches the donation dollar for dollar.

Included in the check presentation was a letter signed by Topflight CEO Scott Docherty. The letter stated: "Topflight Grain and Cobank are proud to support such a worthy cause and organization like Habitat for Humanity. The members and employees of Topflight Grain Coop believe in supporting charities that improve the communities we work and live in. The co-operative system is alive and well, and this directly aligns with the co-operative values and principles."

Bowns said that Habitat does indeed make an impact on life for families, allowing them the opportunity to own a home that they can be proud of, and more importantly where they can feel safe and secure for themselves and their children.

Bowns said that donations from organizations such as Top Flight are vitally important because the Habitat program is not supported by state or federal grants or even tax dollars. Each penny collected by Habitat goes into building homes for families.

Bowns said she has been a member of the Habitat Board for a long time and has worked to correct the misconception that Habitat is "taxpayer dollars." She said that even so, she still hears comments about this. She wants people to understand that no one who serves Habitat is paid a wage, everyone volunteers including the warehouse manager, who was on hand Wednesday, K.K. Firki, and every dollar donated is invested into a home, not a paycheck.

She commented that the donations the habitat receives have kept the program going for the last 25 years, and has enabled the local organization to build 21 homes for families in Logan County.
Leonard Krusemark, another board member was present for the presentation. He commented that donations often spur more donations. He said it is a trend that the organization is grateful for, and that it often happens that word will get out that a nice donation has been made, and others will add to the donation.
Bowns recalled that was the case once when Habitat was picking up items from the former Mitchell Newhouse Lumber yard. A donation had been made enabling the organization to buy building supplies. While picking up those supplies, the Newhouse owners added to the donation a supply of windows for a new home. Bowns recalled that was a very special day because that donation enabled the Habitat to complete a home for a deserving family.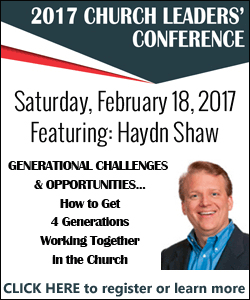 Krusemark also commented that the homes built by Habitat are nice homes, that improve the neighborhood where they are located, and help to increase property values. Those increased values generate property tax dollars that benefit the entire county.

Bowns added to this, saying another common misconception is that the home is "given" to a recipient family. That is not the case. Applicants are assigned a mentor who works with them to make sure they are prepared for the financial responsibility of home ownership, including a 20-year mortgage. These home recipients also give hours of their time to the Habitat cause, helping build a house for another family, working on their own home, helping with fundraisers, and volunteering to help in the Habitat Warehouse.

Board member Tonita Reifsteck also talked about the Habitat "Buy a Stud," fundraiser. She said that anyone who wishes could purchase a wall stud for a new home, and can sign and date the stud. She said when this happens, the autograph and any personal message are photographed, and the picture is given to the recipient family for their scrapbook. Reifsteck said, and Bowns agreed that the 'Buy a Stud' is gratifying to the donors, but also very much a special thing for the home recipients.

In addition to the Buy a Stud Fundraiser, the Habitat partners with the Logan County Joint Solid Waste Agency in conducting monthly electronic recycling collections. Items are brought to the warehouse the second Saturday of each month. Volunteers help unload donations and re-load them onto the recycling truck. The Habitat organization then receives the dollars earned from the recycling. It is a win-win situation for the organization as well as Logan County residents who can safely dispose of their electronics, knowing that their used and broken items will generate dollars for a new home down the road.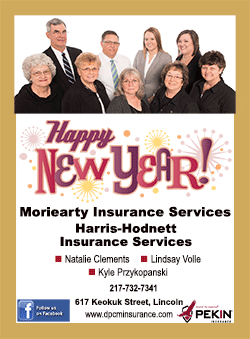 And finally, there is the warehouse itself that is a constant fundraiser for the organization. Bowns explained that the Lincoln warehouse is not like those you see in larger towns, where excess items are sold off. Everything in the warehouse for sale has been donated to the Habitat for that purpose. There is a wide variety of items for sale, anything from sofas and other furniture items to light fixtures, ceiling fans, electrical wiring supplies, working electronics, and much more.

As the morning came to an end, Bowns commented that home build number 21 is about 75 percent complete. That home, located on South Kickapoo Street in Lincoln is the first build where Habitat is partnering with the Lincolnland Technical Education Center, Building and Trades Class.

She concluded saying the $3,000 donated by Topflight and Cobank will go into building home number 22.

The Logan County Habitat accepts donations in a variety of ways. Work days on home builds are open to anyone who can give of their time.

The organization also accepts lot donations, homes to rehab, and, of course, cash donations. Cash donations can be mailed to Habitat for Humanity, P.O. Box 714, Lincoln, IL 62656.

[Nila Smith]