Euro zone economy starts year in chipper mood, Germany outlook bright
Send a link to a friend Share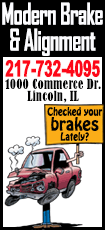 [January 06, 2017] By Michael Nienaber

BERLIN (Reuters) - Economic sentiment in the euro zone surged to a post-crisis record in December and German industrial orders pointed to a busy final quarter for factories in Europe's powerhouse with the government expecting the upswing to carry into 2017.

The overall strong data, released on Friday by the European Commission in Brussels and the Economy Ministry in Berlin, suggested vibrant business activity in the euro zone at the turn of the year despite increased political uncertainties.

It matched strong data this week from purchasing managers and signs of an uptick in inflation.

"The euro zone has started the year on a positive note," ING economist Bert Colijn said, adding that Italy's referendum last month and the subsequent concerns about its banking sector had not dented confidence in the currency bloc as a whole.

"Improving order books, strong employment expectations and strengthening assessments of production in recent months outweigh increased political volatility for the moment."

The European Commission's monthly survey showed economic sentiment rose to 107.8 in December from 106.6 in November - its strongest level since March 2011 and well above the long-term average of 100.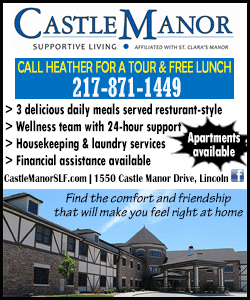 Separately, the European Commission's business climate indicator rose to its highest level since June 2011 - above all forecasts in a Reuters poll.

Together with the strong figures from Wednesday's Purchasing Managers' Index (PMI), the data suggested that "the euro zone economy enjoyed a much-needed growth spurt at the end of 2016," Stephen Brown at Capital Economics said.

Berenberg economist Holger Schmieding agreed, saying the euro zone economy was now on course for a solid 2017 start after having delivered a robust finish to 2016.

"Together with the potential spillover from a strong fiscal boost in the United States, this introduces some upside risk to our forecast of 1.5 percent growth in 2017 after 1.6 percent last year," Schmieding added.

WEAK EURO

In Germany, industrial orders fell in November after surging in the prior month, but the monthly drop was widely expected and the broader picture remained bright as a weaker euro exchange rate helped to push up demand from countries outside the bloc.

Contracts for "Made in Germany" goods were down 2.5 percent on the month, the Economy Ministry said. That was slightly weaker than the consensus forecast of a fall of 2.3 percent.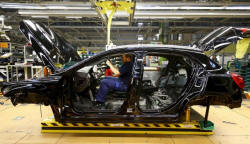 An employee of German car manufacturer Mercedes Benz works on the interior of a GLA model at their production line at the factory in Rastatt, Germany, in this January 22, 2016 file photo. REUTERS/Kai Pfaffenbach/Files
But revised figures showed orders had surged 5.0 percent in October, meaning that over the two months, bookings rose by 3.5 percent, with industrial orders from countries outside the euro zone jumping 6.4 percent.

The Economy Ministry said the results together pointed to "a very favorable development" in the final quarter and that the expected upswing in the industrial sector was likely to carry into the first quarter of 2017.

Commerzbank economist Marco Wagner said the overall positive picture reflected a slight pick-up in global demand. "The euro has weakened in the past months - that clearly helps to push up demand from outside the bloc too," he said.

The German economy is widely seen to have rebounded in the fourth quarter after its quarterly growth rate halved to 0.2 percent in the third due to weaker exports.
Commerzbank's Wagner said he expected GDP growth of 0.5 percent in the three months to December and a similar rate in the first quarter of this year.

The data also prompted J.P. Morgan to upgrade its Q4 GDP growth estimate for Germany by 0.5 percentage points to 2.0 percent (q/q seasonally adjusted annual rate).

For 2016 as a whole, the government expects rising private consumption and increased state spending to have propelled growth in Europe's largest economy to 1.8 percent, which would be the strongest in five years.

Underpinning this prediction, German retail sales rose by between 1.8 and 2.1 percent on the year in 2016 in real terms, the Federal Statistics Office said on Friday.

Record-high employment, increased job security, rising real wages and ultra-low borrowing costs have boosted the spending power of Germans, making consumption the main driver of growth in a traditionally export-driven economy.

(Reporting by Michael Nienaber in Berlin and Jan Strupczewski and Francesco Guarascio in Brussels; Editing by Paul Carrel/Jeremy Gaunt)
[© 2017 Thomson Reuters. All rights reserved.]
Copyright 2017 Reuters. All rights reserved. This material may not be published, broadcast, rewritten or redistributed.