Railers snap four-game skid with season sweep of Springfield
LINCOLN 47, SPRINGFIELD 39
Send a link to a friend Share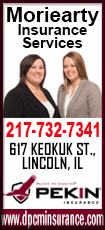 [January 07, 2017] SPRINGFIELD -- With a revamped finals schedule due to the winter weather, sickness being passed around like a hot potato, and a starter unavailable due to injury, the odds may not have been in Lincoln's favor to pick up their first win in calendar year 2017. Despite all the excuses that could have been used, the Railers made them all unnecessary by handling the Springfield Senators 47-39. The Railers are now 10-5 on the season and stay near the top of the Central State Eight standings with a mark of 5-1.

Earlier in the year, Lincoln beat Springfield 55-33. On Friday night, the circumstances were a bit different. For starters, or I guess not starters, junior Drew Bacon was out of the lineup due to a back injury suffered Tuesday night against Lanphier. Bacon will also not play Saturday and his return to the lineup is uncertain. So, for the first time this season, Coach Neil Alexander switched up his starting five and put Ben Grunder into the opening quintet. However, in the end, Lincoln was led by a senior returning to form and a sophomore who had a breakout game.

During Lincoln's four game losing streak, Bryson Kirby had a total of four made three pointers. Teams were tailoring their defenses to throttle the Railers' top outside threat. Kirby finally broke out of that drought by hitting his first two threes to give the Railers a 6-5 lead. With the offense opened on the outside, Lincoln went to their inside game and got scores in the lane from Isaiah Bowers, Grunder, and Zac Morris, getting early playing time due to Bacon's injury.

Lincoln had built a 12-5 lead through one and the feeling was there that Friday night's result could be the same at the first matchup. After Tate Sloan hit from the right corner, Kirby struck from outside twice more and his 12 first half points catapulted the Railers to a 21-9 advantage. However, the Senators had their own secret weapon in senior D'Andre Perkins. Perkins went on a tear during an 8-0 run to cut the Lincoln lead to just four at 21-17. The Railers closed out the first half scoring with a layup from Titus Cannon in the final seconds. It may not have necessarily been the way it was drawn up, but trying to get a win, you will take whatever you can get.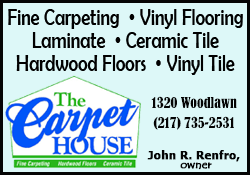 Because of Bacon's injury and players not feeling well, substitutions were off their normal rhythm. In the second quarter, Coach Alexander needed some size and energy, so he turned to sophomore Colton Holliday. Before this game, I'm sure Railer Nation was aware of Holliday. After Friday night, the CS8 may start taking notice. "I thought Colton played really well. He'll do what we need him to down low," Alexander said. "When he gets it on the block, he can take it up strong. He's willing to push and shove underneath and that's what we need. Of course, tonight, it seemed like there was a lot of that (pushing and shoving) go on.

After Kirby started the second half with the opportunity at a four-point play, the senior missed the free throw (more on that later). A Lincoln miss resulted to Holliday's first contribution as he scored on an offensive rebound and Lincoln's lead had rebounded back to 11 at 28-17. A score from Zaire Harris brought a momentary halt to Lincoln's scoring only to see the Railers attack the basket. Titus Cannon made the perfect entry pass to Holliday, who scored off the glass. Next, it was Grunder's turn to drive the baseline with a strong move. Back to Holliday, who used his wide base to create an offensive threat and his left hand to thwart the Springfield defense. The sophomore continued his scoring outburst to put the Railers up 34-19.

[to top of second column]
By the time the third quarter ended, Lincoln was enjoying a 36-23 lead. Unfortunately, the Railers started having issues with the basics and when I say the basics, I mean it. "There are two things you have to do in basketball. Pass the ball and catch the ball," Alexander said after the contest. "Right now, we can't do that." Springfield began a slow comeback using quick pressure traps causing Lincoln to look out of synch. Their passes were thrown at the receivers' feet, over their heads, and where no one was standing. All the turnovers gave Springfield (4-12, 1-6) hope as the fourth quarter rolled on. A 9-2 Senator run pulled Springfield within eight before Holliday scored again to make it 42-32.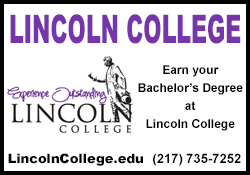 So, if passing and catching the ball if an issue, why not add free throw troubles? Lincoln missed their first four free throws of the night, including the front end of three straight one and bonus opportunities, each one provided more and more hope to the home squad. "In those situations, you have to want to be a player. The real players want to be the shooter and right now, we've got some players that don't want the pressure," Alexander said.

After Cannon, Kirby, and Grunder all missed the chance to stretch the lead, the Senators were also having a hard time dealing with prosperity. Just because Lincoln gave them the chance, certainly did not mean they would take advantage. Bowers hit Lincoln's last field goal from about ten feet. With Grunder splitting a pair of free throws, the Railer were up twelve 45-33 in the final minute. But, the Senators would not go away quietly. Perkins and Trevor Minder each hit threes and the lead had been cut in half at 45-39. Finally, Grunder sank both free throws to seal the win at 47-39. Each team struggled from the line, the teams combining to go 5 of 13.

Lincoln had two in double figures with Kirby's 15 and Holliday's career high of 12 leading the way. Grunder, in his first start of the year, scored seven. Cannon and Bowers each chipped with four, while Sloan added three and Morris scored two.

Lincoln is back in action on Saturday as the Railers welcome in Jerseyville. It has been a few years since the teams have gotten together. Trust me, it will be good to get back to Roy S. Anderson Gymnasium. There is all-day basketball at Roy S. and, if you don't like the cold, Coach Alexander has promised to have the gym 'nice and warm' for everyone. For the boys, the sophomores start at 6:00 while the varsity is scheduled for 7:30. Coach Gregg Alexander's sophomore squad was a winner on Friday night 46-40.
LINCOLN (47)

Kirby 5 0-2 15, Holliday 6 0-0 12, Grunder 2 3-5 7, Cannon 2 0-1 4, Bowers 2 0-0 4, Sloan 1 0-0 3, Morris 1 0-0 2, Hullinger 0 0-0 0. TEAM 19 3-8 47. 3pt FG 6 Kirby 5, Sloan).

SPRINGFIELD (39)

Minder 17, Perkins 12, Harris 4, Mackey 3, Hawkins 2, Jackson 1. TEAM 15 2-6 39. 3pt FG 7 (Minjder 5, Perkins 2).

LCHS 12-11-13-11 47
SPRINGFIELD 5-12-6-16 39
[Jeff Benjamin]