Reuters poll: ECB's next move after April will be further quantitative easing reduction - traders
Send a link to a friend Share
[January 09, 2017] (Reuters) - The European Central Bank's next policy move after April, when it is due to reduce monthly bond purchases, will be to cut the size of the quantitative easing program further, a Reuters poll of money market traders found on Monday.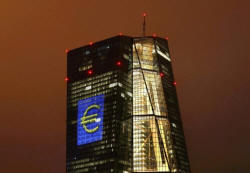 The headquarters of the European Central Bank (ECB) are illuminated with a giant euro sign at the start of the "Luminale, light and building" event in Frankfurt, Germany, March 12, 2016. EUTERS/Kai Pfaffenbach/File Photo
However, a significant minority of respondents said they expected the program to be expanded again.

The ECB last month announced it would buy 60 billion euros worth of bonds a month from April, down from 80 billion euros now, citing signs of economic stabilization and rising inflation. Euro zone inflation rose to 1.1 percent in December.

Asked what would happen after that, 11 of the 17 traders who took part in the survey picked a tapering of QE as the most likely next policy step.

Four said the central bank would reverse course and increase monthly purchases. Two said the ECB would raise interest rates next while none picked a further cut in interest rates.

At its last policy meeting in December, the central bank extended the bond buying scheme to the end of 2017 and held its main refinancing rate at zero and its deposit rate at -0.4 percent.

Since then - and following December's spike in inflation - some economists and policymakers, notably in Germany, have urged the ECB to raise rates.

A wider Reuters poll of 19 traders found the ECB would allot 33 billion euros ($34.7 billion) to banks at its weekly refinancing operation, slightly less than the 34 billion euros maturing from last week.

Forecasts ranged from 25 billion to 40 billion euros.

(Reporting by Purnita Deb; Polling by Kailash Bathija; editing by Jonathan Cable and John Stonestreet)

[© 2017 Thomson Reuters. All rights reserved.]

Copyright 2017 Reuters. All rights reserved. This material may not be published, broadcast, rewritten or redistributed.