Harden triple-double lifts Rockets to 8th in row
Send a link to a friend Share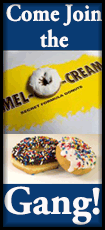 [January 09, 2017] (The Sports Xchange) - After producing his 10th triple-double of the season, it was a single-digit number that brought the biggest smile from James Harden.

He had 40 points, 11 assists, 10 rebounds and two blocked shots, but when asked which of those numbers brought him the most satisfaction, the chose the blocks.

"Key plays at the end of the game," Harden said after the Houston Rockets' 129-122 comeback victory over the Toronto Raptors on Sunday night. "It was a charge. Just try to do the intangible things to help out. Obviously, we know I can hit shots and whatnot, but just trying to do the small things that win games."

Both blocks were on Toronto star DeMar DeRozan, the second with 2:01 to play. The plays helped the Rockets, who trailed by 13 points in the third quarter, rally to extend their winning streak to eight games.

"They put their heads down, attacked our feet," Raptors coach Dwane Casey said. "There was a stretch where we played good basketball for 39 minutes, but it is a 48-minute game, and we have to extend that."
Harden said the key to the Rockets' success is unselfishness.

"Helping each other out, having each other's backs," he said. "Offensively, we're knocking down shots, we're playing off the catch, we're doing the small things to help each other out."

Harden registered at least a double-double in a 17th consecutive game. He also had two steals Sunday, and he committed 10 turnovers.

"We had 15 turnovers as a team and I had 10 of them, and I've got the ball in my hands 90 percent of the time," he said. "It's going to happen. I can have 15 turnovers, as long as we have 15 turnovers as a team, it doesn't matter, who cares."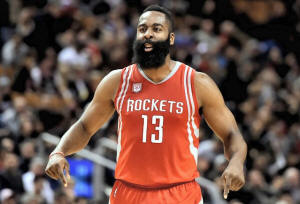 Rockets guard James Harden (13) reacts after sinking a basket during a 129-122 win over Toronto Raptors at Air Canada Centre. Mandatory Credit: Dan Hamilton-USA TODAY Sports
The Rockets were 2 of 11 in three-point attempts in the first half and finished at 11 of 38 from beyond the arc.

"Our defense got a lot tougher and we were able to get into the open floor and made some good shots," Rockets coach Mike D'Antoni said. "Obviously, Trevor (Ariza) got off there and kept us in the game. But we mostly got out in transition, either got fouled or got layups. That came from our defense."
[© 2017 Thomson Reuters. All rights reserved.]
Copyright 2017 Reuters. All rights reserved. This material may not be published, broadcast, rewritten or redistributed.