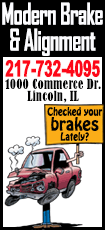 Toward the close of the winter semester administrators from the University of St. Francis, Joliet, sat down and signed agreements with LC that would ease the path forward for qualified pre-nursing students who earn their associates degree.

The schools agreed to simplify acceptance and transition from LC to St. Francis.

On hand from St. Francis for the Nov. 18, 2016 signing were Provost and Vice President of Academic Affairs, Professor of Biology, Frank H. Pascoe, D.A.; as well as Vice President for Admissions, Marketing and Enrollment Services, Charles M. Beutel.

Present for Lincoln College were President David M. Gerlach, Ph.D.; Vice President of Academic Affairs Dr. Gigi Fansler; and Coordinator of the Pre-Nursing and ACES Programs, and Chemistry instructor Todd Lafrenz.

Prior to the signing the officials swapped a bit of each college's history and what the articulation arrangement means.
For Lincoln College, President Gerlach proudly claimed heritage with President Abraham Lincoln. He told how A. Lincoln early in his law practice days rode the judicial circuit in Logan County and had an office located downtown. The college was established just over 150 years ago as the first higher learning institution named for A. Lincoln, and the only while he was President and yet alive.

Dr. Fansler picked up on how the college was founded as Lincoln University in 1865. The first building, University Hall, still stands and is in use. She explained how LC is now returning to its roots as a four-year degree granting institution. The college is now building on its return to baccalaureate programs "one added this year, three more are being added later this year, four more are going for approval to the Higher Learning Commission for next year, and intentions are that there would be two, three or four more added each year thereafter to bring Lincoln back to university status" Dr. Fansler said.


Mr. Todd said that this year he is advising 80 pre-nursing students with many from the Chicago-land area interested in finding a nursing school close to home.

Todd was excited to find the program at St. Francis, which would create a support effort for students to attain their nursing degree and provide options. He said that students who get good grades, and most who are in the nursing program do, and demonstrate they will do well in the nursing program would be recommended to St. Francis.

The criteria for considerations would be a 3.0 GPA, not to have withdrawn from any of the required nursing curriculum; and to take the standard academic pre-entrance exam, the Test of Essential Academic Skill (TEAS) Test. Lafrenz said that LC would also do a internal vetting of students and only recommend the best and those most likely to complete the St. Francis program.

One third of LC students are from the Chicago area. Just as Amtrak makes the Lincoln College accessible, so it is also for St. Francis in Joliet.

The visitors from Joliet modestly deferred to Lincoln in age. The University of St. Francis is coming up on its centennial in just a few years, 2020, yet they hold their own in historical roots.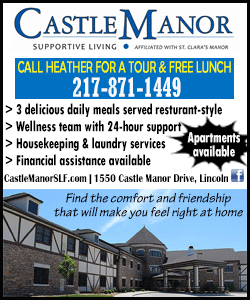 The university was founded by Sisters of St. Francis of Mary Immaculate, who have their headquarters in Joliet.
The founding Sisters were originally from Luxembourg, Germany. Two Sisters were asked to come to America to teach English to Native Americans. When they got here, they could not find reservations in Wisconsin that wanted their teaching service. They made their way down through Chicago, then to Joliet, where there was a young congregation of German immigrants with children needing to learn the language.

The Sisters started an order of Franciscan Women.

A freak lightning storm accident at the church in 1897 led to the death of a number parents, leaving children in need of a home. The Sisters started the Guardian Angel Home, and later built a large home in what was then farm country in 1925.

The founding sisters continued to move on, establishing many institutions to meet education, housing, and medical needs of people where ever they went. While in Rochester, MN an epidemic swept the area taking many lives, which resulted in the re-known Rochester Clinic.

During the 1990's nursing schools began leaning more toward attaining baccalaureate degrees. The College of St. Francis then aligned with the area hospital nursing school, which had been established about 1920.

The University of St. Francis offers numerous programs and varying degrees in education, business, arts and sciences; with bachelors, masters, and a couple doctoral programs. The school has just under 4,000 students with 1,600 to 1,700 of those in undergraduate programs.

St. Francis purchased the building that was once an orphanage to expand its nursing school. It invested $8 million to create a state of the art building dedicated to training nurses that opened in the fall of 2016 and is now named Guardian Angel Hall. The expansion increases the nursing program capacity by 50 percent.
In addition to classroom instruction, the program offers virtual simulation laboratory training as well as off-site clinical experiences contracting with a number of medical care facilities for hands on training.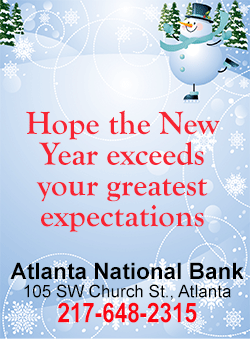 At LC, already there are students interested in finding a nursing school in the Chicago-land area, and Lafrenz believes there will be many interested in the St. Francis program.

As the papers were being signed, literally before the ink was dry, Lafrenz and Mr. Beutel were sitting down with a couple of LC students going over the St. Francis program.

Lincoln College has a number of other program transfer agreements with other colleges in place as well, including an agriculture related program that was signed with the University of Illinois.

[Jan Youngquist]