Hellebuyck makes 28 saves as Jets blank Flames
Send a link to a friend Share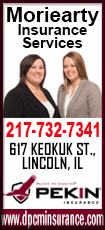 [January 10, 2017] WINNIPEG, Manitoba -- In an ironic twist, the Winnipeg Jets paid homage to their high-flying past with perhaps their best defensive effort of the season in a 2-0 victory over the Calgary Flames at MTS Centre on Monday night.

Wearing their retro Heritage Classic jerseys, which were unveiled for their outdoor game against the Edmonton Oilers in October, the Jets showed a side fans haven't seen that often this season or, well, ever: an aggressive backcheck, a commitment to pressuring their opponents at virtually every turn and physical play that didn't put them in the penalty box.

So, instead of channeling their inner Dale Hawerchuk or Teemu Selanne -- high-flying members of Jets 1.0 -- they did their best impressions of Bill Lesuk and Ron Wilson, defensive stalwarts of the 1970s and '80s.

Dustin Byfuglien scored the winning goal midway through the first period and captain Blake Wheeler scored an insurance marker just a few minutes into the final frame. Connor Hellebuyck wasn't under siege for any prolonged periods but was solid in stopping 28 shots to record his third shutout of the season and the fifth of his career.

Chad Johnson made 25 saves for Calgary.

Perhaps most important for the Jets, they were focused and didn't appear lost with leading scorer Patrik Laine looking down from above. The Finnish phenom watched from the press box as he recovers from a concussion suffered last weekend in Buffalo.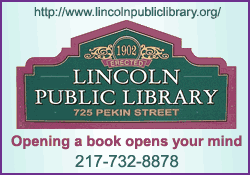 "We don't talk about that anymore," Hellebuyck said. "It's in the past. We know we played a good game (tonight)."

Wheeler echoed the sentiments of his goalie, who was criticized for a lackluster performance in a 4-3 loss in Buffalo on Saturday, a game the Jets led 3-1 after two periods.

"The message (Sunday) was trying to focus on the real positive things we did on the road trip (where the Jets won two of three games)," Wheeler said. "A good majority of that road trip we took some nice strides. It just got away from us at the wrong time in Buffalo. We had our focus in the right place and we came out determined tonight to get back on track.

"It was good patient game. We liked where our game was at. We weren't panicked because of what happened in Buffalo."

Just because the Jets weren't out for revenge doesn't mean they were passive. In fact, this game had more than its fair share of bad blood. It started when Flames fourth-liner Garnet Hathaway upended Nikolaj Ehlers, the Jets' hottest scorer the last couple of weeks, behind the Jets' net. Jets fans held their breath for a second until the young Dane got back on his skates.

Before the shift was out, Hathaway was nailed by enforcer Chris Thorburn, who was unsuccessful in convincing him to drop his gloves. Hathaway was, however, more than willing to toss one of Thorburn's aside after their brief scuffle. Seconds later, he met the business end of defenseman Ben Chiarot's stick.

The temperature spiked once again with the Flames pressing with a six-man attack in the game's final two minutes. As Jets defenseman Toby Enstrom quietly pushed the puck into Hellebuyck's pads in the hope of getting a whistle, he was leveled by a cross-check from center Sam Bennett into the side of the net. Center Mark Scheifele, who was the first to jump to Laine's aid in Buffalo, got the first couple of shots in before rearguard Jacob Trouba finished the job.

[to top of second column]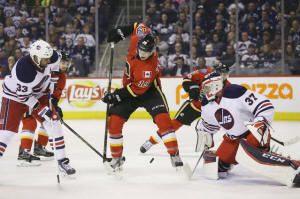 Jets goalie Connor Hellebuyck (37) looks to make a save on a tipped puck by Calgary Flames left wing Matthew Tkachuk (19) during the first period at MTS Centre. Mandatory Credit: Bruce Fedyck-USA TODAY Sports
The Jets (20-20-3) opened the scoring when Byfuglien picked off an errant pass in his own zone by the Flames (22-19-2) and head-manned the puck to right winger Drew Stafford, who gave it right back to the big defenseman as he picked up speed. Byfuglien went wide down the right side, curled in around defenseman Mark Giordano just before the goal line and roofed the puck over Johnson's glove at 10:21 of the first period.

The Jets put the game out of reach when Wheeler stripped Flames rearguard TJ Brodie of the puck near the Flames' blue line and went in and scored on a breakaway at 3:16 of the third period.

Flames coach Glen Gulutzan thought his troops played well, but he was quick to praise the victors.

"I thought the score was indicative of the game. It was close right through," he said. "I thought they had a little edge in play and I thought they played really well."

Gulutzan conceded his players had some trouble with puck control, particularly when the Jets closed the gap on his forwards.

"We looked a little sloppy, like we didn't execute as well as we did in the past," he said. "I thought they defended well. At the end of the day, we didn't execute some plays and they did, and won."

Stafford, who is filling in on the Jets' top line in Laine's absence, said he felt comfortable on right wing alongside Scheifele and Ehlers.

"That's where I'm naturally comfortable, that's where I play. I know that I can produce and contribute in that role," he said.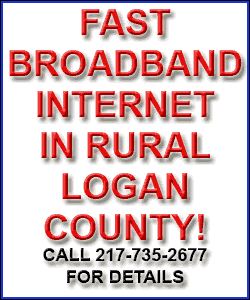 NOTES: The Jets wore their Heritage Classic jerseys for the second time this season. They wore the retro uniforms against the Edmonton Oilers in October and will don them a final time on March 19 against the Minnesota Wild. ... The Jets' healthy scratches were D Mark Stuart and LW Brandon Tanev. ... Joining them in the press box were Flames C Freddie Hamilton, RW Troy Brouwer and D Brett Kulak. ... Flames LW Matthew Tkachuk saw his a nine-game point streak end. It was the longest streak of the season by a rookie. His dad, Keith, scored 144 goals for Jets from 1992 to 1996 ... The Flames played their 10th of 11 consecutive games against Western Conference opponents. The are 6-4-0 in that span.
[© 2017 Thomson Reuters. All rights reserved.]
Copyright 2017 Reuters. All rights reserved. This material may not be published, broadcast, rewritten or redistributed.