JPMorgan profit rises 24 percent as U.S. election stimulates trading
Send a link to a friend Share
[January 13, 2017] (Reuters) - JPMorgan Chase & Co <JPM.N>, the No. 1 U.S. bank by assets, reported a 23.8 percent rise in quarterly profit on Friday, helped by a surge in investor activity related to the U.S. presidential election.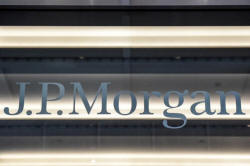 A J.P. Morgan logo is seen in New York City, U.S. January 10, 2017. REUTERS/Stephanie Keith
The bank's net income rose to $6.73 billion in the three months ended Dec. 31 from $5.43 billion a year earlier.

Earnings per share rose to $1.71 from $1.32. (http://bit.ly/2jeHFAY)

Analysts had expected earnings of $1.44 per share, according to Thomson Reuters I/B/E/S. It was not immediately clear if the reported results were comparable. The earnings for both the latest and year-earlier periods included special items.

Bank of America Corp <BAC.N>, the second-largest U.S. bank, kicked off the quarterly earnings period for big U.S. lenders earlier on Friday, announcing a 46.8 percent rise in profit.

The stunning election of Donald Trump on Nov. 8 set off a wave of trading in stocks and bonds during what is normally a slow period for trading desks at big banks.

JPMorgan and BofA were also reporting their first results since the Federal Reserve raised its key interest rate target for the second time since 2006 on Dec. 14.

Higher interest rates are usually good for banks, allowing them to charge higher rates on loans.

(Reporting by Sweta Singh in Bengaluru and David Henry in New York; Editing by Ted Kerr)

[© 2017 Thomson Reuters. All rights reserved.]

Copyright 2017 Reuters. All rights reserved. This material may not be published, broadcast, rewritten or redistributed.