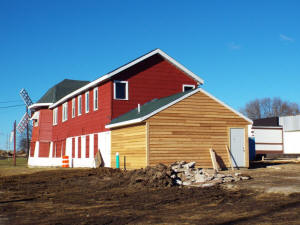 Ladd updates Lincoln on Mill project and downtown signage
Adds comments regarding new Tourism Director

Send a link to a friend Share
[January 13, 2017] LINCOLN - At the Tuesday evening committee of the whole meeting of the Lincoln City Council, Geoff Ladd, representing the Mill on Route 66 addressed the aldermen with updates on work being done at the Mill.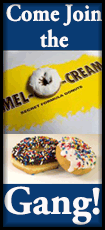 Ladd had come to the city earlier in 2016, seeking financial support to go along with a grant he was applying for with the National Park Service Route 66 Corridor Preservation Program. The grant and city dollars would be used to add an ADA accessible entryway and public restrooms to the Mill. The work was a requirement before the Mill on Route 66 could be opened as a public Museum.

At that time, Ladd reported a timeline that would include having the Mill open to the public by April 2017.

This week, Ladd reported that the timeline was on schedule, and the Mill will indeed open this year in April.

He reported that the restroom project is "all but complete" with only the exterior paint left to be done. At the time of the meeting he said that the water was not yet hooked up, but later in the evening, he updated that information to local media saying that the bathrooms now have running water.

Ladd said there are some small tasks that need to be completed in the historical portion of the building, but again, the work is on track for that April opening.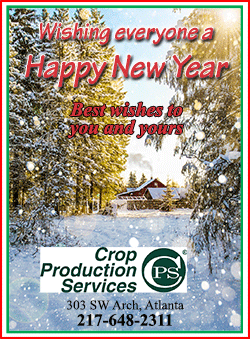 Ladd said that the April opening would include a Grand Opening Celebration that he wants to make very special to commemorate the event after so many years of working to get to this point. He said that he was now inviting all the aldermen to be present for that occasion.

He closed speaking on that subject saying that he would be meeting with City Administrator Clay Johnson the following day to review paperwork and wrap things up so the Route 66 Heritage Foundation, the organization responsible for the Mill restoration, could request the final payment from the city for the restroom work.

He added that the building has been inspected by the city and has passed those inspections.

Moving on, Ladd said that the work on the new Route 66 signage through the downtown area is mostly complete. He said there were a few minor things that needed to be done, but they would be done soon.

Moving on, Ladd said that the Illinois Route 66 Byways is now putting together the new Route 66 visitor guide for the 2017 tourism season. He said he would be working with Tourism and the city to assure that local information was included in that booklet.

When Ladd finished, Rick Hoefle asked how the Mill would support itself now that it is ready to open. Ladd said that the Mill requires about $4,000 a year to stay operational, with the majority of that being for insurance.
He said the Heritage Foundation has a very "robust" membership and that much of the money will come from that. He said the Mill would also continue accepting public donations and would offer some Route 66 and Mill items for sale at the museum once opened.

Hoefle said that if the Mill has funding issues down the road, he is hopeful that the Foundation will look to the Logan County Tourism Bureau as an ally in taking care of the new Route 66 attraction.

As is known by most, Ladd is the former director of the Bureau when it was the Abraham Lincoln Tourism Bureau of Logan County. After resigning from the bureau, Ladd did separate himself somewhat from that organization while it was working under the umbrella of the Logan County Alliance.

Tuesday evening, Ladd said that he was hopeful that there would be a good relationship built between the Heritage Foundation and the Bureau. He commented that he was pleased to see Bill Hoagland hired as the new Tourism Director.

After the meeting, Ladd offered an additional comment via email regarding the hiring of Hoagland:

"On behalf of the Route 66 Heritage Foundation of Logan County, I want to congratulate Bill Hoagland on his new post as Executive Director of the Logan County Tourism Bureau. Our Foundation is looking forward to meeting with the Tourism Bureau to look at ways to promote together Route 66 in Lincoln and Logan County. This includes The Mill, which will open in April as a museum, with a kickoff Grand Opening event (details TBA). As always, I want thank the city of Lincoln, the National Park Service Route 66 Corridor Preservation Program, and all the organizations, businesses, and individuals who have contributed to the Mill. I also want to thank all our volunteers and our past and present board members.

In addition, the Illinois Route 66 Scenic Byway has been working with the Mayor & the City Council, Walt Landers & the Street Department, and IDOT, to add 1926-1930 Route 66 street signs in the downtown area and traveling past The Mill, and that project is nearly completed. I want to personally thank everyone involved with both of these important projects, and am looking forward to the increase in tourism and economic development from these initiatives."

[Nila Smith]