Ex-House speaker sues sex abuse accuser for $1.7 million
Send a link to a friend Share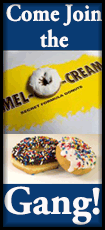 [January 20, 2017] (Reuters) - Former U.S. House Speaker Dennis Hastert, serving prison time for a financial crime stemming from a child sex abuse scandal, has filed a lawsuit seeking the return of $1.7 million in hush money the disgraced politician admitted paying to one of his accusers.

The filing was made in response to a breach-of-contract case the unidentified man brought last year claiming Hastert paid only about half of the $3.5 million he had privately promised as compensation for decades of pain and suffering his misconduct had caused.

In Hastert's countersuit, filed on Wednesday in Kendall County Circuit Court in Illinois, he acknowledged paying $1.7 million to the accuser from 2010 and 2014 to buy his silence, but said their verbal agreement was not enforceable.

Hastert also argued the plaintiff himself engaged in a breach of contract by disclosing details of the allegations he made against the former lawmaker.

"To the extent any contract existed between plaintiff and defendant, plaintiff breached that contract," the filing said. "Plaintiff's breach of conduct resulted in damages to defendant, and plaintiff is accordingly required to return $1.7 million."
A lawyer for the plaintiff, identified in court documents only as James Doe, called Hastert's countersuit "predictable."

"Mr. Hastert has decided that rather than live up to his promise to compensate his victim for his molestation and resulting injury, he will ask his victim to pay him," attorney Kristi Browne said in a statement. "He admits to agreeing to make payments, but then denies that it is an agreement that he has to keep."

Hastert, 75, the longest-serving Republican U.S. House speaker in history, pleaded guilty in 2015 to the crime of structuring, which involves withdrawing a large sum of money in small increments to evade currency-reporting rules.

[to top of second column]
Former U.S. Speaker of the House Dennis Hastert leaves the Dirksen Federal courthouse after his sentencing hearing in Chicago, Illinois, United States April 27, 2016. REUTERS/Frank Polich/File Photo
He had not been charged with sexual abuse due to statutes of limitations. Prior to his sentencing last April however, prosecutors alleged Hastert had molested at least four boys on the wrestling team he coached during his time as a teacher at a Chicago-area high school during the 1960s and 1970s

Hastert himself admitted to such abuse when he was sentenced, receiving a 15-month term in federal prison, to be followed by two years of probation and participation in a treatment program for sex offenders.

Judge Robert Pilmer in November rejected Hastert's motion to have the civil lawsuit by his accuser dismissed, saying the plaintiff had established a basis for a "claim for contract."

(Reporting by Curtis Skinner in San Francisco; Editing by Lisa Shumaker)
[© 2017 Thomson Reuters. All rights reserved.]
Copyright 2017 Reuters. All rights reserved. This material may not be published, broadcast, rewritten or redistributed.