Lincoln Heritage Museum benefits from Kroger Community Rewards Program
Support the Museum through your purchases at Kroger
Send a link to a friend Share
[January 21, 2017] LINCOLN - The Lincoln Heritage Museum is now a recipient of the Kroger Company's Community Rewards Program which allocates funds to participating non-profit organizations throughout the community.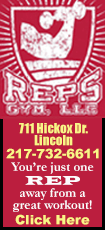 The Lincoln Heritage Museum will benefit based on consumer's purchases at Kroger while using their registered Kroger Plus card. Community members wanting to help support the Museum can enroll their Kroger Plus card by logging into their krogercommunityrewards.com account and adding Lincoln Heritage Museum's non-profit organization number, 11130, to their card. Once the card is linked to the Lincoln Heritage Museum, every time the consumer shops with their Kroger Plus Card, the Museum will be allocated funds.

"We are very excited to be a new partner with the Kroger Community Rewards Program and grateful that the Kroger company offers this program for non-profit organization such as ourselves who can benefit." said Tom McLaughlin, Director of the Lincoln Heritage Museum. "It is our hope that our local community who shops at Kroger will sign up for this free program and help us continue to promote the life and legacy of Abraham Lincoln."

Full instructions on how to support the Museum with the Kroger Plus card can be found on the Museum's website.
[Christina Xamis
Public Relations & Media Manager
Lincoln College]