Logan County Farmer receives No-Till Legend Award
National No-Tillage Conference recognizes the Top 25 Innovators
Send a link to a friend Share
[January 21, 2017] MOUNT PULASKI - Jeff Martin, owner and operator of Martin Family Farms, received the title of No-Till Legend on Thursday, January 12, 2017.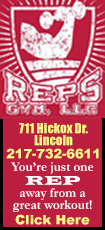 The 25th Anniversary National No-Tillage Conference was held in St. Louis, Missouri January 10-13th. Thursday evening, Frank Lessiter, No-Till Farmer editor, recognized the Top 25 innovators in the History of No-Till. Each innovator was recognized by a short summary of their accomplishments and then asked to come up on stage and receive their plaque.
Lessiter talked about Martin's passion for no-till. Martin has stuck with this process through the good times and the bad and has been a major contributor to no-till by reporting the results he was seeing on his fields. He not only promoted no-till, but help improve no-till operations over the years. Martin was unfortunately unable to attend this dinner, but his son and business partner, Derek Martin, accepted the award on his behalf.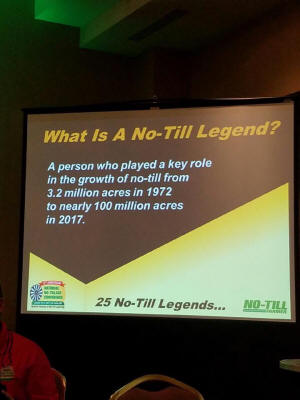 So, how does one get "No-Till Legend" status? According to the No-Till Conference a No-Till Legend is "a person who played a key role in the growth of no-till from 3.2 million acres in 1972 to nearly 100 million acres in 2017". Martin remembers when he first decided to no-till.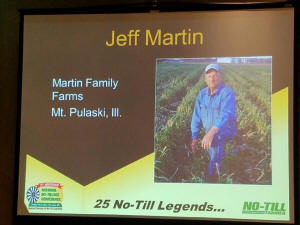 He walked out to one of his corn fields during a dust storm and witnessed the knee high corn being cut down by the dust.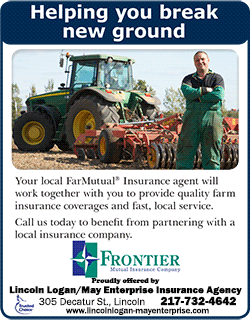 Not only was precious soil being lost, but crops were being damaged. Martin knew things had to change. He looked into viable options to improve soil quality and to prevent anymore soil loss and finally decided on no-till. Martin started sometime in the early 80's and still continues this practice today.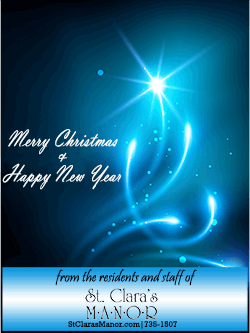 Martin states, "No-till has many benefits that definitely outweigh the negative." Martin continues, "no-till promotes more earthworms and they are great facilitators. They incorporate organic matter, improve drainage and aeration all while helping water infiltration and enhancing nutrient cycling. No-till give microbes a boost and allows for better soil tilth too. Farmers make fewer trips over their field which saves in fuel and labor costs and sustains the soil from wind and/or rain erosion."
Martin is happy with the results he has seen with no-till/strip-till over the last 30 years. The biggest benefit is better soil health which is the key to better yields. Martin is pleased to have passed this practice down to his sons, Doug and Derek, and is eager to see what the next 30 years brings.

If you would like more information, please visit the farm website at martinfamilyfarms.org or email Jeff Martin at jjmartin2@frontier.com.

[Text provided by Renee Martin]