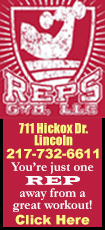 The two-hour program, "Making Future Strokes and Heart Attacks a Thing of the Past," will feature Dr. Craig A. Backs, a local internal medicine physician, who will lead an interactive discussion on new ways to detect arterial disease and improve arterial health and to prevent heart attack and stroke.
The Memorial Center for Learning and Innovation (MCLI) is at 228 W. Miller St., at the southeast corner of Rutledge and Miller streets. Free parking is available on the first and third levels of the parking garage south of the MCLI at Rutledge and Carpenter streets.

The seminar will be in the M.G. Nelson Family Auditorium on the first floor.

To register, visit MemorialMedical.com or call (217) 788-3333.
[Michael Leathers, Memorial Health Systems]