Send a link to a friend Share
JANUARY 2017
---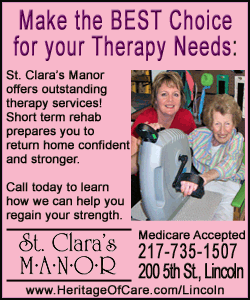 FRIDAY, JANUARY 27
No events on the calendar
SATURDAY, JANUARY 28
Joyful Painting
HOSTED BY: Lincoln Park District
WHO: Children second grade and up
DETAILS: Register by Thursday, January 26th by calling the Lincoln Park District.
WHERE: Lincoln Park District
WHEN: 10 a.m. to 12:30 p.m.
Free Community Yoga Class
HOSTED BY: REPS Gym
WHO: Public
WHERE: REPS Gym, 300 S. McLean, Lincoln
WHEN: 10:15 a.m. to 11:15 a.m.
Crusader Trivia Night Fundraiser
HOSTED BY: Carroll Catholic School
WHO: Public with paid participation
DETAILS: See announcement in Lincoln Daily News
WHERE: Carroll Catholic School
WHEN: 5:30 p.m. doors open, 6:15 p.m. trivia begins
SUNDAY, JANUARY 29
ALMH Prenatal Class
HOSTED BY: Abraham Lincoln Memorial Hospital
WHO: Free, registration requested
DETAILS: What is covered? When to Come to the Hospital, What to Expect During Labor and Delivery, Pain Relief Options, Breathing Techniques, Family Maternity Suites Tour. Register by calling 217-605-5233
WHERE: ALMH Steinfort Room A
WHEN: 1 p.m. to 4 p.m.
Annual Fish Supper
HOSTED BY: Emden Sons of American Legion
WHO: Public with paid admission
DETAILS: See advertisement in Lincoln Daily News
WHERE: Emden American Legion Post 506
WHEN: 4:30 p.m. to 7:30 p.m.
MONDAY, JANUARY 30
Senior Fitness Class
HOSTED BY: Christian Village/Silver Fox Fitness
WHO: Public
DETAILS: Free of charge and is open to the public. Due to construction, entrance and parking is only from Short 8th St.
WHERE: Christian Village Congregate Building
WHEN: 10:15 a.m. to 10:45 a.m.
TUESDAY, JANUARY 31
Blood pressure screenings
HOSTED BY: Abraham Lincoln Memorial Hospital
WHO: Public
DETAILS: Free blood pressure screenings are available every Tuesday.
WHERE: Wombacher Room at ALMH, 200 Stahlhut Drive
WHEN: 9 a.m. to noon
Tuesday Night Bingo at the Oasis
HOSTED BY: Oasis Senior Center
WHO: Public (membership not required)
DETAILS: Come early for dinner then enjoy an evening of Bingo. We will offer large jackpots and a great atmosphere!
WHERE: Oasis Senior Center, 2810 Woodlawn Road, Lincoln
WHEN: 5 p.m. Dinner service; 6:30 p.m. Bingo
---