Visitation: 2 p.m. to 5 p.m. Sunday, January 29, 2017 at Fricke-Calvert-Schrader Funeral Home in Lincoln
Service: 9:00 a.m. Monday at the funeral home
Funeral home: Fricke-Calvert-Schrader, Lincoln
Obituary
Wilma L. Parrish, 81, of Lincoln, passed away on Wednesday January 25, 2017 at 2:10 a.m. at her home surrounded by her loving family.

She was born on February 10, 1935 in Patoka, the daughter of James W. and Eunice (Snyder) Meridith. She graduated from Stonington High School in 1953. She married Robert E. Parrish on December 23, 1956 in the Stonington Methodist Church, Stonington. Wilma worked for Dr. Rose, Brown, Jack in Decatur, was a licensed beautician, worked at the University of Illinois, was a caregiver in Lincoln, and retired from Lincoln Developmental Center in Lincoln.

She was a 50-year member of Eastern Star, and 26-year member of White Shrine of Jerusalem. She belonged to the Oasis Red Hats, AFSCME Union, and enjoyed eating with the monthly Methodist luncheon group. She loved her family, all her friends, and the USS Ashland Reunion group. She enjoyed reading books, painting in her early years, cross stitch, old movies, playing bingo and card games.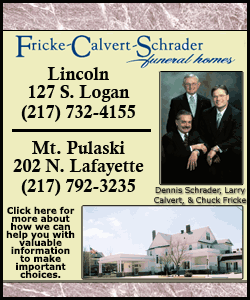 Surviving are her husband: Robert E. Parrish of Lincoln, sons: Robert R. Parrish of Mount Pulaski, and Meridith L. Parrish of Mount Pulaski, daughter: Deborah L. (John) Ewins of Lincoln, grandchildren: Jennifer (Isaac) Sheley of Chestnut, Christopher Parrish of Mount Pulaski, Tiffany Parrish of Decatur, Sylvia M. and Margo Bobbi Parrish of Lincoln, great-grandchildren: Layla S. Parrish, Tatum S. Bateson, Colton Edwards, Keaton W. Dinger, Addison M. Sheley; one brother: James (MaryLou) Meridith of Highland, brother-in-law: Harold (Dottie) Parrish of Taylorville, sister-in-law: Edmona Vitali of Taylorville, several nieces, nephews, and cousins. She was preceded in death by her parents, her in-laws: Harold and Clara Parrish, brother-in-laws: Charles Davis and Aldo Vitali, sister-in-law: Virginia Davis, and grandson James R. Ewins.

Services for Wilma will be 9:00 a.m. Monday January 30, 2017 at Fricke-Calvert-Schrader Funeral Home in Lincoln, with Rev. Michael Paulson officiating. Visitation will be from 2:00-5:00 p.m. Sunday January 29, 2017 also at the funeral home. Burial at Camp Butler National Cemetery will follow the service.

Memorials may be made in Wilma's name to the Shriner's Childrens Hospital in St. Louis, MO or Logan County Oasis Senior Center in Lincoln.
Click here to send a note of condolence to the family of Wilma E. Parrish