Casino operators push back against Japan regulation prospects
Send a link to a friend Share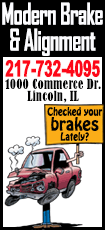 [July 31, 2017] By Thomas Wilson

TOKYO (Reuters) - Foreign casino operators are pushing back against moves to regulate the proposed introduction of big-ticket gambling in Japan, an early sign of friction for projects expected to generate billions of dollars for the country and the global gambling industry.

Japan voted late last year to legalize casinos but specifics are still being hammered out to include in legislation on regulating proposed integrated resorts - facilities hosting casinos, hotels and conference space.

A key advisory panel on Monday held its final meeting on the rules, proposing a limit on casino floor space and curbs on entry by Japanese nationals. The panel is expected to submit its proposals to Prime Minister Shinzo Abe within days.

The prospect of casino gambling is unpopular in Japan, given worries about gambling addiction and a potential increase in underground activities. As a result, foreign casino operators have been cautious against speaking out against specific rules.
And yet, casino executives and industry players said they have begun lobbying politicians and bureaucrats against specific limits on casino floor space.

Bureaucrats have looked at a limit of 15,000-square-metres, casino and government sources said, though the panel proposed only an "upper limit" and said specific figures would be set after wider consultations.

Casino executives said the 15,000-square-metre limit could hit foreign investment and neutralize the economic impact of resorts.

"The current plans risk missing the mark on achieving public policy objectives," one casino executive said they had told bureaucrats. "It's serious enough to halve the maximum investment we're willing to make."

At stake, say executives and industry representatives, is the potential revenue from casinos and the potential size of their boost to Japan's economy.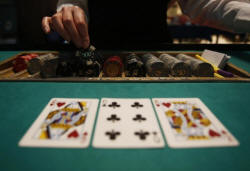 A dealer picks up chips on a mock black jack casino table during a photo opportunity at an international tourism promotion symposium in Tokyo September 28, 2013. REUTERS/Yuya Shino
Analysts think two resorts in big cities could generate revenue of around $10 billion a year, while the government has touted their potential for boosting Japan's tourist industry and creating jobs.

A senior source with direct knowledge of the government's position told Reuters bureaucrats are minded to impose stricter rules on casinos to placate public opposition.
"There's a need to balance the promotion of integrated resorts with caution and listening to the public's views," the source said.

Las Vegas Sands Corp and MGM Resorts International are among foreign operators vying to win licenses to run a Japanese casino resort. The U.S. pair have previously said they would plough up to $10 billion respectively into a project.

But investment of that size could be cut if the 15,000-square-metre limit is pushed through, said Seth Sulkin, chair of a taskforce at the American Chamber of Commerce Japan working on casino resorts.

"Gaming companies are very rational: they'll calculate how much revenue they can generate with a 15,000-square-metre casino floor, and they will only invest as appropriate for that, which certainly won't be $10 billion," Sulkin said.

(Reporting by Thomas Wilson; editing by Susan Thomas)
[© 2017 Thomson Reuters. All rights reserved.]
Copyright 2017 Reuters. All rights reserved. This material may not be published, broadcast, rewritten or redistributed.