Visitation: 4 to 7 p.m. Monday July 24, 2017 at Fricke-Calvert-Schrader Funeral Home, Lincoln
Service: 10 a.m. Tuesday July 25, 2017 at the funeral home
Funeral home: Fricke-Calvert-Schrader, Lincoln
Obituary
Joan 'Elaine' Butler, 78, of Beason, died Wednesday, July 19, 2017 at Christian Village with family by her side.

Her funeral will be at 10 a.m. Tuesday July 25, 2017 at Fricke-Calvert-Schrader Funeral Home, Lincoln with Rev. Bill Ramsdale officiating. Burial at Harmony Cemetery will follow the service. Visitation will be 4 to 7 p.m. Monday July 24, 2017 also at the funeral home.

Memorials may be made to Beason United Methodist Church or Beason Fire Department.

Elaine was the daughter of Kenneth and Iona D. Burwell. She was born in Bloomington, on January 10, 1939. Elaine married James B. Lessen on June 24, 1956 in Waynesville. Elaine later married Phillip R. Butler on September 29, 1984 in Lincoln.

Elaine followed her mother into nursing, graduating from LPN school in 1972. She retired from nursing, having worked as a LPN at Abraham Lincoln Memorial Hospital and Lincoln Developmental Center for many years.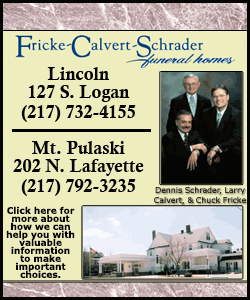 Elaine was preceded in death by: her parents, Kenneth and Iona Burwell; her son, Kevin Lessen; and Great-Grandson, Brandon Harris.

She is survived by her husband, Phil Butler of Beason, her brother, Gene (Karen) Burwell of Lincoln, her children and step-children; Kent (Sue) Lessen of Hoffman Estates, Karen (Rick) Harris of Chestnut, Kim (Mike) Florey of Beason, daughter-in-law, Sondra Lessen of Springfield; Brian (Tonjau) Brown of Colby, KS; Troy (Diane) Brown of Goodland, KS; plus 11 grand-children, and 14 great-grand-children.
Click here to send a note of condolence to the family of Joan 'Elaine' Butler