Service: None
Funeral home: Holland Barry & Bennett Funeral Home
Obituary
William E. "Bill" Quast, 76, of Middletown, passed away July 19, 2017, at Abraham Lincoln Memorial Hospital.

Cremation rites will be accorded by Holland Barry & Bennett Funeral Home.

Bill was born May 31, 1941, in Tazewell County, the son of Elmer W. Quast and Ruby A. Romans.

He spent many loving years with his companion and soul mate Mabel Skelton.

He was an ambulance driver, bricklayer, welder, farmer, and jack of all trades. He retired from Precision Products after many years of service.

He enjoyed western movies, reading, working crosswords, and fixing anything that he could.
Surviving are his children: Rebecca Stevenson, Tim (Judy) Skelton, Carol Renfro, Rusty (Stacie) Skelton, Syb (Joe) Liesman, Kelly (Rick) Hoffert, and Lyle Quast; sons-in-law: Vincel Brooks, Earl Baker, and Ernie Hoffert; daughter-in-law Brenda Skelton; brothers John Quast and Don "Wiener" Quast; sister Norma Sullans; and numerous grandchildren, great-grandchildren, and great-great-grandchildren.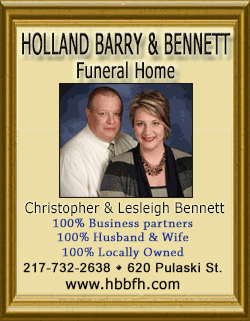 He was preceded in death by his parents, his soul mate Mabel Skelton, children: Kasey Brooks, Patsy Skelton, Pip Skelton, Ruthann Hoffert, Deany Baker, Joe Skelton, Jerry Skelton, Billy Dale Skelton, and Cheryl Himes; brothers Jim Quast, Bud Quast, and Bob Quast; and sisters Peggy Jankovitz and Lynn Cremeans.

Memorial donations may be made to the family in care of Rebecca Stevenson.

Click here to send a note of condolence to the family of William E. "Bill" Quast