Visitation: 5-7 p.m. Friday, July 21, 2017, at Holland Barry & Bennett Funeral Home in Lincoln
Service: 10:00 a.m. Saturday, July 22, 2017, at Lincoln Christian Church
Funeral home: Holland Barry & Bennett Funeral Home
Obituary
Maxine Amberg Seggelke, 90, of Lincoln, went to be with her Lord on July 16, 2017, at The Christian Village in Lincoln.

Visitation will be from 5-7 p.m. Friday, July 21, 2017, at Holland Barry & Bennett Funeral Home in Lincoln. Funeral services will be at 10:00 a.m. Saturday, July 22, 2017, at Lincoln Christian Church with Ryan Edgecombe officiating. Burial will be at a later date at Camp Butler National Cemetery in Riverton, Illinois.

Maxine was born March 1, 1927, in Lincoln, the daughter of Clarence and Luella (Brake) Amberg. She married Joseph Seggelke on April 7, 1945, in Lincoln. He preceded her in death on June 25, 2013.

Surviving are her daughter Bonnie Jo Klockenga and her husband Bud of Dix, three sons: Thomas Derald Seggelke and wife Rita, Edwin Dean Seggelke and wife Linda, and Mark Allen Seggelke and wife Barb all of Lincoln, 11 grandchildren: John Klockenga, Wendy Wittl, Jennifer Albrecht, Ryan Seggelke, Trent Seggelke, Amy Taylor, Erin Taylor, Kelly Dye, Lillie Seggelke, Jason Seggelke, and Jeffrey Seggelke, 25 great grandchildren, and one brother; Clarence E. "Bucky" Amberg of California.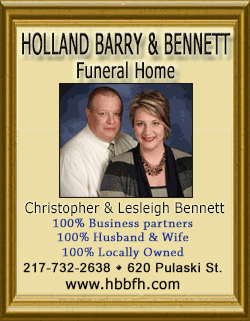 She was preceded in death by her parents and her husband.
Maxine was a graduate of Atlanta High School in 1945 and attended Lincoln Christian University. She was baptized into the faith at Eminence Christian Church. She and her husband served in South Korea for three-and-a-half years as missionaries. She worked alongside her husband in the Lincoln Christian University Print Shop and at Key Printing. She was a faithful member of Lincoln Christian Church where she was a member of Jolly Seniors, taught Sunday School, and was in the choir.

Memorial donations may be made, in lieu of flowers, to Lincoln Christian Church, The Christian Village, or to Lincoln Christian University and will be accepted at the funeral home.

Click here to send a note of condolence to the family of Maxine Amberg Seggelke