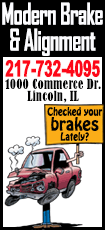 Reverend Jonathan Buescher started both ceremonies with an invocation honoring those who have given their lives for the cause of freedom and those who continue to sacrifice, including the military families who support those in the service.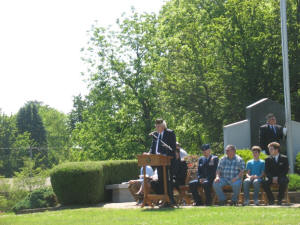 Master of Ceremonies Bob McCue said Memorial Day began as a day to decorate the graves of Civil War soldiers killed in action and now we salute all veterans who have given their lives. He said we should salute all heroes living and dead.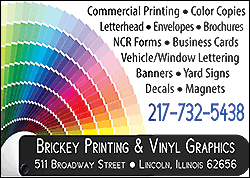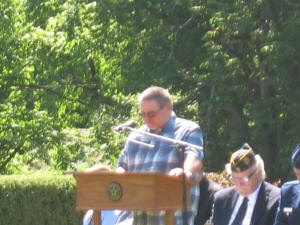 Mount Pulaski Mayor Jim Cole welcomed everyone to the service at Mount Pulaski Cemetery asking for a moment of silence for veterans who have lost their lives.

The Mount Pulaski High School Band led by David Helm then played the National Anthem to mark the occasion.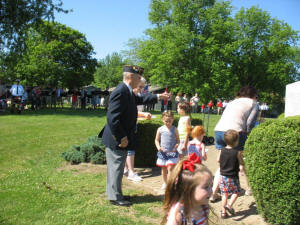 Children were called up to place flowers, to honor the sacrifices at the memorial in Mount Pulaski Cemetery. Several local organizations participated in the Laying of Wreaths Ceremony including Brownies and Girl Scouts, Cub Scouts and Boy Scouts, Firefighters, members of the American Legion and more. Each group presented wreaths for those who lost their lives in combat.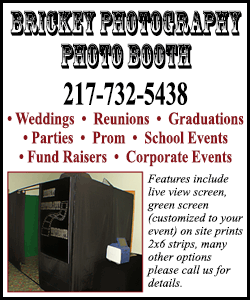 A member of the Sons of the Legion presented certificates to four local students who will be going to a Boys' State Conference where they will learn about our government. These students included Jacob Mileham, Sebastian Manor, Dawson Hagan and Dixon Aylesworth. Eli Olson was this years' scholarship winner.

As they have done for several years, students at Mount Pulaski Grade School and High School competed in a Memorial Day essay contest sponsored by the Sons of the Legion. Their essays share what Memorial Day means to them and winners receive a scholarship.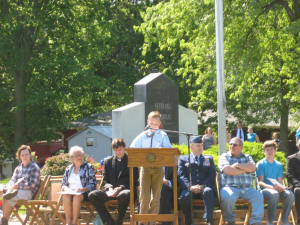 This year's winners were junior high student Colin Tyson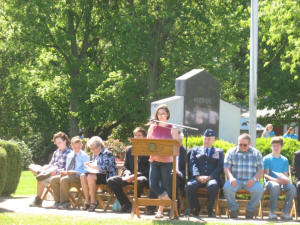 and high school student Faith Dewer, who both read their essays.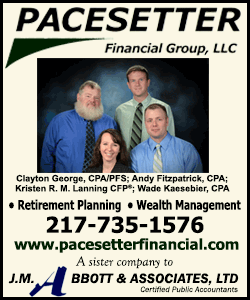 Tyson's essay talked about his great grandfathers who fought in World War II and the Korean War, with his paternal great grandfather being tortured and starved after his capture as a prisoner of war. Tyson said Memorial Day should not be forgotten and "will never be in the hearts of our veterans and the families that have lost a loved one or have one deployed right now fighting for your freedom." He honored those people.
Tyson said Memorial Day is a day to remember what it means to be a hero and a day to remember the heroes who gave everything.

Dewer's essay said Memorial Day is often under celebrated. She said it is "a sacred holiday of remembrance of all the people who have lost their lives for us to have something to celebrate. It is a mourning family that lost their beloved soldier and most of all, it is a country that stands unified in the loss of our soldiers and takes pride in the battles that placed us where we are today."

Dewer said that over 1 million soldiers have died during wartime and she finds their bravery humbling. She said parents share their children's lives to protect us and the families who have lost loved ones are just as important as those who sacrificed their lives. She called each one of the million who have died in battle "a hero in my book" as they help preserve freedom and liberty.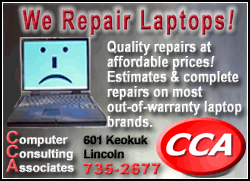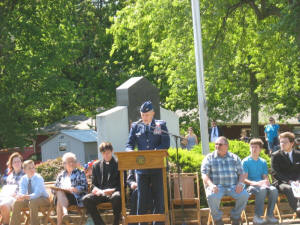 McCue then introduced keynote speaker Colonel William Lee Wheeler of the Army National Guard. Wheeler serves as Director of Joint Operation for the Illinois Air National Guard. He has been in the armed service 41 years and done six combat tours serving in Bosnia, Afghanistan, and Iraq.

Wheeler said on Memorial Day, Americans "have paused to reflect on the sacrifices paid on battlefields around the world from Bunker Hill to Baghdad." He said we need to "honor the lives of those who fought by remembering the individuals."

Wheeler said we need to remember the thousands of soldiers from Illinois who sacrificed their lives in the various wars. He said, "All that we gather to remember have completed their last mission, but at the same time, have left us with a mission. Our mission is to remember them [and] to ensure their memory is passed down to future generations. This is the task we must take without reservation."

Wheeler closed by saying, "I wish to give thanks to our fallen heroes. May we never forget their sacrifice for this great nation."

After the band played a medley of patriotic tunes that helped commemorate the various branches of service and Buescher gave a benediction, the Mount Pulaski American Legion Post 447 and Mount Pulaski SAL Squadron 447 provided a rifle salute followed by the playing of Taps.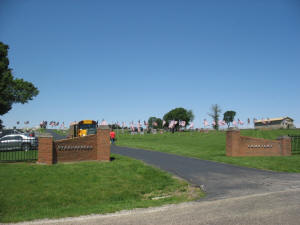 At the Steenbergen Cemetery, 164 flags that honor veterans from various wars are displayed during the holiday. A similar service was held at the chapel (9188) there with Wheeler also reminding everyone of the sacrifices families make.

At each service, many gathered to help commemorate those who have served and given their lives for this country.

[Angela Reiners]