The Christian Village to hold "fan drive" for Community Action
Send a link to a friend Share
[June 10, 2017] LINCOLN - As the weather is gearing up this summer we hope that everyone will stay safe and cool. It has come to The Christian Village's attention that the Summer Cooling Program with Community Action has been terminated due to lack of funding.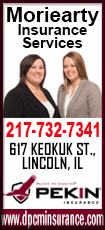 Given the continued need in the community The Christian Village will be hosting a fan drive for the month of July. They ask that only new boxed fans are purchased for this event. Fans can be brought to The Christian Village main entrance located at 1507 7th Street here in Lincoln. Time for drop offs are M-F 9am-5pm. All fans will be taken to Community Action for them to disperse as needed.
Breann Titus, Community Action states, "For the last two years, the Illinois Department of Commerce has not administered the Summer Cooling Program, therefore no funding is available to CAPCIL to provide energy assistance over the hot summer months. Having the ability to be able to provide a fan to a customer in need would keep more people in their own homes cool during the summer months and help them be less susceptible to heat related illnesses. We are so thankful to organizations like The Christian Village, who continue to partner with CAPCIL for the good of the community!"

About The Christian Village
The Christian Village, 1507 7th St. in Lincoln is one of thirteen communities whose parent company is Christian Horizons, (CH) is a faith-based, not-for-profit with communities located in four Midwestern states. CH offers a variety of services including independent living garden homes and apartments, assisted living, GracePoint short-term rehab, memory care, home care, hospice and long-term care. Home care is provided by the CH division CareLink. Hospice care is provided by the Safe Haven Hospice division of CH. CH has been providing compassionate care for older adults since 1962.
[Julie Bobell
Clinical Liaison]