Visitation: Monday, June 12th, 2017 from 4-7 p.m at Lincoln Christian Church
Service: Tuesday, June 13th, 2017 at 10:00 a.m. at the church.
Funeral home: Fricke-Calvert-Schrader, Lincoln
Obituary
Mackenzy Sue Ann Brown, 6 years old, of Lincoln, passed away at 9:10 a.m. Monday, June 5th, 2017 at The Children's Hospital of Illinois in Peoria.

Visitation will be Monday, June 12th, 2017 from 4-7 p.m. The funeral will be Tuesday, June 13th, 2017 at 10:00 am. Both will take place at the Lincoln Christian Church, 204 N. McLean St. Lincoln.

Burial will be at the Harmony Cemetery in Beason.

Mackenzy was born Febuary 1st, 2011 in Lincoln. The daughter of Jeremy Brown (Paula Lawhorn) and Tina Brown (Roger West). Mackenzy attended school at Chester East Lincoln Elementary in Lincoln where she just finished Kindergarten.

Mackenzy was a daughter, granddaughter, great-granddaughter, sister and also the best friend of Bella her puppy. Mackenzy was a beautiful, outgoing, fun loving little girl with a touch of sass! She loved music, playing, dancing, shopping with mommy and fishing with daddy. She was loved by all!
Mackenzy is survived by her parents as well as her siblings Steven, Kayleigh, Joanna, Jayden and Alivia Brown. Along with two step-brothers Joshua and Paul Lawhorn of Mattoon. Also surviving are her grandparents Julie Brown (RexGill), Frank Brown. Kathy Dale, and special friend Mary Martin as well as her special cousin Rachel Sexton all of Lincoln. Great Grandparents John and Ione Davison of Middletown as well as Duane Perry also survive.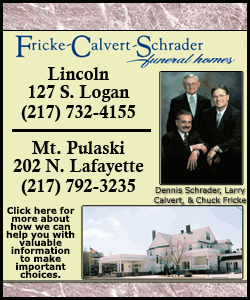 She is also survived by several Aunts and Uncles including Jon (Samantha) Brown, Gina (Chris) Welchel, Robbie (Carrie) Dale, April Dale, Kim (Ron) Skelton, John Boswell (Cheryl Butts), Ella (Dean) Mahnke, Susan (Melvin) Schwenke, Tammy (Rob) Dunn, Twilla (Joe) Wilcoxen, Doris Brown, Roy Lawhorn, Jr., and Step Uncle Rex Gill, Jr.

Preceding her in death were Great-Grandma Nona Perry, Grandpa Roy Lawhorn, Sr., Grandma Emma Lawhorn, Great-Grandparents Sara and Marvin Brown, Uncle Jason Brown and Grandpa Larry Dale.

Although we mourn the loss of Mackenzy, we rejoice knowing that she will live on in the lives of others through The Gift of Hope Organ Donor Program.

The family would like to say a special thank you to the caring staff at The Children's Hospital of Illinois and The Gift of Hope as well as all the others who were involved with her care.

The family would also like to thank all of their family, friends and members of the community for their loving support.

Somebody once said: "This is not goodbye, but so long for now"

Donations are being accepted through GoFundMe.com. When there, search for "Mackenzy's Gift of Life."

Fricke-Calvert-Schrader Funeral Home in Lincoln is in charge of arrangements.
Click here to send a note of condolence to the family of Mackenzy Sue Ann Brown