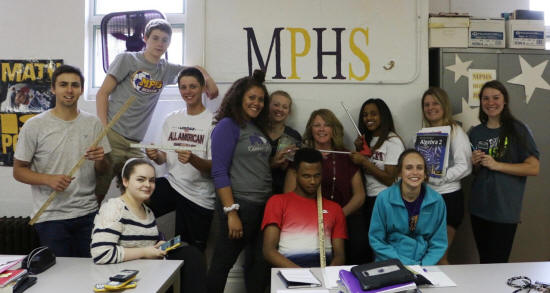 Denise Farnam honored as Mount Pulaski High School Educator of the Quarter


Send a link to a friend Share
[June 19, 2017] MOUNT PULASKI - Mrs. Denise Farnam was honored as the Educator of the Quarter for the last semester of the 2016-17 school year. The choice for this award is made through recommendations from peers, parents and students.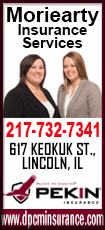 A colleague said, "Denise has been a teacher-leader for almost 20 years. She is a "go to" person for both teachers and students alike. She willingly gives up her own time to help students in math. In addition, she supervises and coaches the WYSE Team that recently placed 3rd at the Sectional and then sent two students to the State WYSE test. There is no one occurrence that makes Denise most deserving of recognition right now, but rather her entire body of work over time. She is dedicated to our school and our students. She frequently attends school functions. She runs the HS Student Council and has organized many events on their behalf including: Make a Difference Day, Visits to Vonderlieth, etc.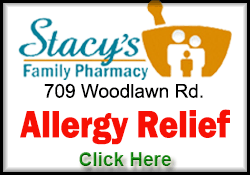 "In her spare time, she serves on the Board of Education at her daughters' grade school. She is active in our teachers union having served as its president in the past. Denise owns and operates her own business as well.

"She models to our students what one should do to be involved while living their life to the fullest," the colleague concluded.

Another colleague said, "Mrs. Farnam has always been such a positive and enthusiastic person, both as an educator and a colleague. This district has a lot of great teachers, and a huge part of that is because of the outstanding group of veteran teachers like Mrs. Farnam. She dedicates a lot of time to WYSE, NHS, Student Council, and homecoming, and does so with such a great amount of school spirit. She truly cares for her students and is a great role model for them, as well as her colleagues. Mrs. Farnam is absolutely worthy of this honor."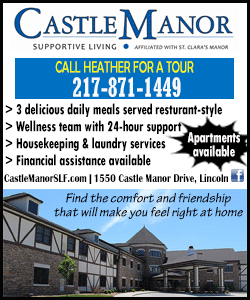 Emily LeVault, also a colleague, sa "Mrs. Farnam has spent a lot of time making up lessons with students who have fallen behind.

A parent said, "She is an excellent teacher who is there to help her students. She has also taken on Student Council and Prom. She is easy to talk to and answers parents promptly about concerns. Mrs. Farnam is an excellent teacher for our students.
Student Bailey Leete said of Mrs. Farnam, "She is dedicated to having her students succeed. And has amazing leadership skills."

Another student observed, "She tries to motivate us kids. She dedicates all her extra time to us kids. Mrs. Farnam has good leadership skills."

Mrs. Farnam is an avid Cubs fan who absolutely delighted in last year's World Series win. She also accompanied the 2017 senior class of MPHS on a field trip to Wrigley Field this past spring.

Farnam and her husband, Craig, make their home in Lincoln with their two daughters, Cara and Kate.
[Information compiled by LDN writer/photographer Teena Lowery and facilitated by school board member Deanne Mott]