Fun and excitement go together with learning at the Lincoln Public Library this summer


Send a link to a friend Share
[June 19, 2017] LINCOLN - The annual summer reading program at the Lincoln Public Library kicked off Thursday morning. The program is all about reading and the wonders that can be found at the library. This year's theme is "Reading by Design."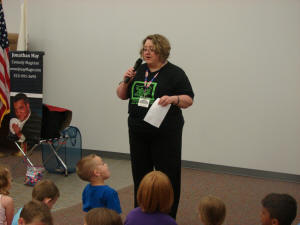 As explained by Youth Services Librarian Melissa Oxborrow, the theme was selected to highlight the library's broad based programs of engineering and technology, such as the Explorer's Club and Story Time.

The Summer Reading Program also has a second fun aspect and that is the Thursday morning entertainment in the Annex. This summer Jonathon May from Des Moines, Iowa led off the summer entertainment with a fast paced show of magic and humor. Lincoln was one of many stops he had planned for the day in central Illinois. A man who does over 400 shows a year and intends to hit 50 cities in Iowa, Illinois, and South Dakota in six weeks really has to move along. He has been a successful entertainer for most of his life, but has been doing it full time for six years. He brings his exciting shows to a mix of kids and adults, crafting each show to his unique audience.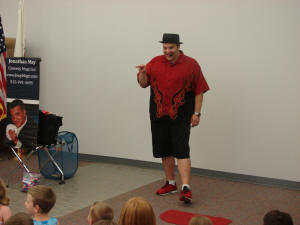 "I plan to do a blast of forty-five minutes in Lincoln and then head out," he said. Well, his show was a blast, but his audience was having such a good time that he went into overtime.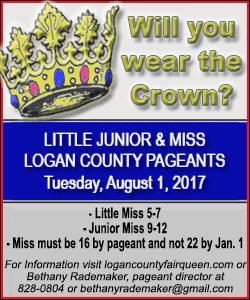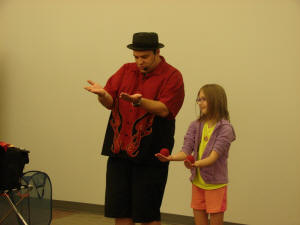 There were red rubber balls that kept disappearing and then showing up in the hands of his surprised young helpers. There were card tricks to do.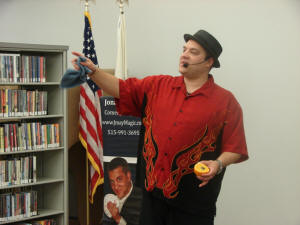 There was even a trick with a $100 bill that a member of the audience loaned the magician. When it disappeared from a sealed envelope, there was a serious frown from the person who supplied it. Never fear, Jonathon pulled the lost bill out of the center of an orange that was in a sealed bag on the side of the stage the whole time. How did he do that?

He pulled everyone together during his show, kids and adults alike. When he called for volunteers to help him out, hands shot up from all of the kids and their parents sitting in the back. It was hard to tell who was having the most fun, the magician or the audience.

The Lincoln Public Library has another five shows during "Reading by Design." Contact the library Youth Services Department to find out about the summer reading program for children and the Thursday entertainment always offered at 10 a.m.

[Curtis Fox]