"He was, who he was, and he was always Micah," said Weber.

Forty-three-year-old Micah Wakeman died last week in a farming accident in rural Emden. He leaves behind a wife, Laura, and four children. He also leaves behind an incredible legacy.

Wakeman will be remembered forever for his impact he had on the lives of others. He served his family, his church and his community selflessly. He had a passion for farming and started driving a tractor at a young age.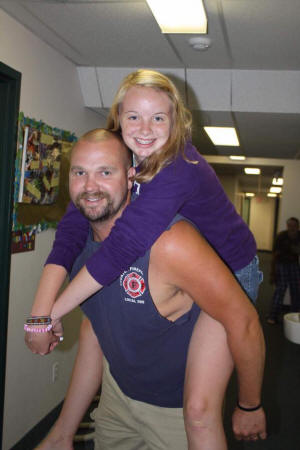 A smiling Micah Wakeman in a firefighter's cut-off t-shirt with a child hanging on was a familiar sight around the community. Here the child is his oldest daughter, Ashton.

He was happily a father to the fatherless. He and his family opened their hearts and their home, fostering many children in need over the years. More often than not, when Wakeman was spotted around school functions he had a small child in his arms and other children clinging to him. The same was the case as he traveled the world.

Wakeman touched lives all over the globe as he led mission trips around the world. His journeys took him to Uganda, Haiti, Ethiopia and Guatemala.

At present, he was scheduled to guide a mission trip to Uganda at the end of July. This trip would have been his third trip to Uganda. The first trip was a medical missions trip and the second trip was more orphan and community care, according to Deanne Mott. "Now this time will also be a lot of orphan and community care, but he raised funds to build a well," said Mott of Wakeman. "So the well has been built, but it was funded entirely by the team at Mount Pulaski Christian Church and his hope was to do another one at some point. Because they currently, where we have served, they did not have access to clean water. So this is their first opportunity in their community to have access to clean water, with this well." When the group travels to Uganda next month they will see for the first time Wakeman's dream being a reality.

Wakeman also took a group of youths from the Mount Pulaski Christian Church on a mission trip to Canada.

Back home in the United States his travels took him all around central Illinois as he followed his daughters, Ashton, Emily and Josie, in school sports and activities.

His "day job" was serving as a firefighter in Decatur. He served the city of Decatur for 16 years at the time of his death. Fire departments from all over central Illinois were represented on Tuesday as firefighters showed up in full uniform to lay their brother to rest. The large gathering of these brave men and women in uniform was a sight to see. As one wife of a firefighter said, "Firefighters don't do anything small."

Wakeman was so busy helping others, it's a wonder when he slept. He was an elder at the Mount Pulaski Christian Church, where he also taught Sunday School, served as a youth group leader, and could often be found cleaning and doing maintenance jobs around the church. Vacuuming the Family Life Center was a particular favorite of Wakeman's. He once explained to Weber, who had tried to vacuum without Wakeman's blessing, that it was his worship time. Weber left the vacuum alone.

Wakeman was the director of the Mount Pulaski EMS. First responders also showed out in full force to pay respect to their leader who meant so much to them.

Wakeman was even associated with the Emmaus Community and participated in the "Walk to Emmaus." It was on a "Walk" that he received a small wooden cross. Wakeman's widow, Laura, clutched that small wooden cross on this day.

While all of his accomplishments are truly amazing, first and foremost he was a servant of Christ.

"He would want this to be a celebration of Jesus," said Weber of Wakeman. With that being said, Weber announced in his opening remarks, "We will worship."

Scripture readings and a prayer commenced before members of the Mount Pulaski Christian Church formed a band onstage. Tracy Dyer immediately informed the crowd they had been duped. "You may have thought you were attending a funeral. This is a celebration of a man who has made an impact all over the world," said Dyer. "Several years ago Micah made a commitment to celebrate his Savior."

With that introduction, the band performed "The Stand" and Wakeman's oldest daughter, Ashton, joined the group on stage to sing. The band would also take the stage later on in the service to sing "Alive," "Christ Is Risen," "Turn Your Eyes Upon Jesus," and "Holding On To You." Each time Ashton returned to the stage and she sang more beautifully than ever.

In addition to Weber and Dyer speaking, J.T Thomason and Ryan "Bob" Mott also took the microphone and spoke from the heart about the impact Wakeman had on them and others.

Thomason traveled from Cape Girardeau, Missouri, on this day to speak and he talked about Wakeman being a "hand washer." He further explained that notion by telling the story of Elijah and Elisha, two of the most well-known prophets of Israel.

"Micah joyfully, faithfully and consistently washed other people's hands," Thomason said. He called Wakeman "an absolutely amazing man" and talked of how he lived to serve the Lord. "Micah did some of the most courageous things with his life," he added.

Thomason also questioned whether or not Wakeman slept. He told the story of how once when the Wakeman family was vacationing in Cape Girardeau, Wakeman was busy changing the oil in Thomason's car and fixing things at the house for the Thomason family. "His hands are all over my life," said Thomason. "No one served his church and community like Micah Wakeman," he added.

Thomason called Wakeman "a man of humility" and looked directly at Laura and the kids when he said, "I am a better man because of Micah Wakeman - because of the way he loved and served me."

"He made everyone around him better," Thomason told the crowd in attendance. Upon hearing the news of Wakeman's death, Thomason said, "I felt like Superman died."

Ryan Mott, Wakeman's best friend, spoke following Thomason at the service and he gladly provided his words to LDN:

"To most people, I'm Ryan. But Micah wasn't most people. To Micah, I was Bob. And Micah was my best friend.

I have struggled for the words that I might share with you today.

- What do you say about a man who used exclamation points and often multiple after every sentence of a text?

- A man who would travel half-way around the world because there were children who needed a father-figure.

- A man who would sit for 13 straight hours on a plane because he refused to use an airplane bathroom. - A man who used a simple wristband that said "I am second" to witness to anyone that would listen to him talk about his Jesus.

- A man who was so competitive that he showed up to our small group Christmas party with a white board around his neck because he'd just had his tonsils out but he was determined to not only play games but to win.

- A man who has been called a hero by many but who would have pulled you aside and shared that his hero was Jesus and yours should be too.

"What do you say about a man who was truly larger than life? What do you say about the man who baptized your son?

"Micah struggled for words too. Those of you who experienced Micah sharing a communion mediation know that he often tugged at his shirt and cleared his throat. And when he got to the scripture it was based on and began to speak of Jesus' sacrifice at the very minimum, he would choke up, but often a tear would fall.

"It also looked like he was wringing his hands, but he wasn't. He was rubbing a small wooden cross that he was given on his Walk to Emmaus. A Walk to Emmaus is a three-day journey that presents the theme of God's grace, how that grace comes alive in the Christian community and how it's expressed in the world. You also discover how grace is real in your life, how you live a life of grace, and how you bring that grace to others. After Micah experienced the journey, he insisted on sponsoring me on a Walk.

"The small wooden cross that Micah would hold for every communion meditation, during prayer, and in times of difficulty, has been rubbed smooth. It looks weathered and well worn because it was. Micah always went to the cross in times of need.

"He also had two well worn copies of My Utmost for His Highest, another gift he would have received on his Walk. I believe he would have wanted me to share the words that are written on the pages of June 13th.

Excerpt shared from My Utmost for His Highest:
"Where our individual desire dies and sanctified surrender lives. One of the greatest hinderances in coming to Jesus is the excuse of our own individual temperament. We make our temperament and our natural desires barriers to coming to Jesus. Yet the first thing we realize when we do come to Jesus is that He pays no attention whatsoever to our natural desires.

We have the idea that we can dedicate our gifts to God. However, you cannot dedicate what is not yours. There is actually only one thing you can dedicate to God, and that is your right to yourself. If you will give God your right to yourself, He will make a holy experiment out of you—and His experiments always succeed. The one true mark of a saint of God is the inner creativity that flows from being totally surrendered to Jesus Christ.
In the life of a saint there is this amazing Well, which is a continual Source of original life. The Spirit of God is a Well of water springing up perpetually fresh. A saint realizes that it is God who engineers his circumstances; consequently there are no complaints, only unrestrained surrender to Jesus. Never try to make your experience a principle for others, but allow God to be as creative and original with others as He is with you.
"If you abandon everything to Jesus, and come when He says, "Come," then He will continue to say, "Come," through you. You will go out into the world reproducing the echo of Christ's "Come." That is the result in every soul who has abandoned all and come to Jesus.

"Have I come to Him? Will I come now?"
So you and I are left with these questions. Have I come to Him? Will I come now? Micah would tell you to take every moment captive, to not waste time and say "Yes" right now!"

Thomason's testament to Wakeman's passion for life in and through Christ deeply stirred all present.

Weber again took the podium to offer readings and remarks. He began by saying that Wakeman moved around a lot as a child because of his father's job. Jokingly he added from Wakeman's parents that, "Micah was the first in the family to make friends and the first to know where the ER was."

Upon mentioning the places that Wakeman had traveled, Weber said, "All he wanted was for everyone to know Jesus."

Weber said that in the last week, "We all have been led by God to do something more because of Micah." Weber brought to attention that Wakeman was not perfect, he had a temper and he was Cub fan. Weber believed that if Wakeman had a question for Jesus, it would be, "Why 108 years?"

"Micah believed in CIY (Christ in Youth) and was totally in love with Jesus," offered Weber in his remarks. Weber relayed stories of Wakeman truly enjoying seeing the youth jump and rejoice at CIY, and often Wakeman was the leader of the pack.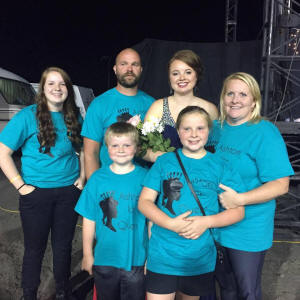 The Wakeman family in 2015 when oldest daughter Ashton was a Logan County Fair Queen Contestant. She is surrounded by her dad Micah and mom Laura. From left to right her siblings Emily, Zeke and Josie complete the family.

Wakeman's impact on his own children is evident and as Weber said, "We all feel the loss. Their church and their family will be with them." Weber was asked to speak on behalf of Wakeman's oldest daughter, Ashton, who admitted to him that shockingly she was at a loss for words and could just come up with "Thank you!"

"Thank you, Micah. Thank you, Daddy. Thank you, Bubba," Weber said on her behalf. A few days shy of turning 20 years old, Ashton still looked at her father with the same sparkle in her eye as he had the day she was born.

At Wakeman's request Communion was served during the service. Dyer proceeded with a very moving Communion Meditation. He touched on Wakeman's maybe not so eloquent way of speaking in front of the church crowd on Sundays for Communion. "But you listened because you saw his heart every single time," said Dyer, from the heart.

Before announcing this would be a church service communion at the Wakeman's request, Dyer brought up the exclamation marks that Wakeman so loved to use, providing a light-hearted moment inserted at just the right time.

As Communion was served, a video montage showing family photos and pictures of Wakeman with children from all over the world hanging on his neck, played on a big screen. The song, "I Want To Live Like That!" played over the loud speaker.

Finally, Dyer said there would be one more song played by the band. "Micah requested this song," he said. "Holding On To You" was that final song.

Just before the band started to play, Dyer made a plea to the crowd. "Please find someone to tell about Jesus. Seek somebody out and don't wait. Make a commitment and learn by Micah's example to serve other people and love them with all your heart."

Conclusion to the service inside the church featured a firefighter's tradition. A representative from the Decatur Fire Department took to the stage to announce the ringing of the bell. "The bell reflects honor and respect to those who have served. To our comrade, Micah Bradley Wakeman "Bubba" - his last alarm. He is going home," the firefighter announced. The bell was struck a series of three strikes, three times.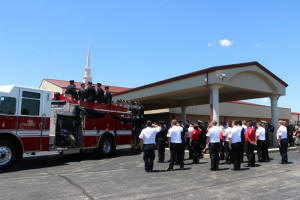 Paying respects to a fallen firefighter.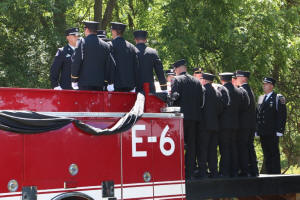 Firefighters take good care of their own. Wakeman was laid to rest respectfully at Illini Cemetery in Warrensburg.
Outside the church, Engine #6 was waiting to carry Wakeman to his final resting place, Illini Cemetery in Warrensburg. The five-mile journey to the cemetery was yet another moving experience. As the procession of vehicles left the church and headed towards Route 121, two fire trucks sat by the highway with their ladders extended to form an arch and the American flag waved against the blue sky. People stood along the route saluting the fallen firefighter. Traffic was halted as far as the eye could see.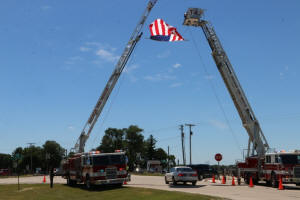 The scene at Route 121 in honor of Micah Wakeman.

As the two-mile long procession of firetrucks, emergency vehicles, police cars and various other vehicles turned onto Park Road, there continued to be more people lining the road, paying their respects. Driving past a cornfield on the left and a bean field on the right only seemed appropriate for the man who had a passion for farming. Every intersection in the country was blocked by a fire truck and or other emergency vehicle to assure Wakeman the right of way. CN also blocked the railroad crossing. A man and woman with two young children stood at the end of their driveway, the father holding a flag while the mother guided the children to observe and respect a true fallen hero. Workers at a new facility being built in the country also paused to salute the procession.

Reaching the beautiful cemetery nestled on a small hill, surrounded by prairie grass, beautiful trees and God's beauty we refer to as nature, seemed so fitting for Wakeman. He was laid to rest peacefully, as hundreds of family and friends looked on.

Two final touching moments transpired: the presentation of the flag to Laura as her children looked on and the firefighters gathered to play "Amazing Grace" on the bagpipes.

True to the words spoken about Micah earlier in the service by Mark Weber, "Well done, good and faithful servant!"


Zeke

A little Micah lives on in youngest child, Zeke. The Wakeman's youngest of four children is a little boy who is the spitting image of his father. Zeke just turned nine years old on Fathers Day, was supposed to spend it camping with his dad. Micah had a dirt bike waiting for Zeke and planned to surprise the boy. Micah's younger siblings, niece and nephews took Zeke camping and were joined for a time during the trip by Micah's parents, aunts, uncles and cousins. And, a picture of Zeke on the dirt bike has already surfaced.

To say Zeke idolized his dad was pretty accurate, from head to toe, in fact. The youngster could be spotted hanging on his dad's arm just about anywhere, sporting a similar haircut to his dad and more often than not, wearing rubber boots, just like his firefighting daddy.

Zeke walked beside his mom following the casket at the cemetery. Micah leaves big shoes to fill...

[Teena Lowery]
[Outside service photos by Teena Lowery. Personal photos courtesy of the Wakeman family.]
Editors note: We deeply appreciate how the Wakeman family has shared their story so that others might see what Micah brought to the world, and see Jesus in him.