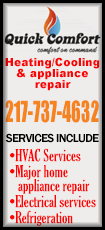 This includes 11 students who received the highest "Special Honors" for a grade point average of 4.0; 11 students who were placed on the "President's List" for a grade point average of 3.75-3.99 and 20 students who were named to the Dean's List for a grade point average between 3.25 and 3.74.

Local students being recognized include:

Special Honors (GPA of 4.0).

Brock Bunner, Lincoln;
Makenzie Cooper, Lincoln;
Kevin Fry, Lincoln;
Miranda Hilliard, Mount Pulaski;
Lucas Jones, Lincoln;
Tabitha McCall, Lincoln;
Erin Rankin, Emden;
Erin Ritter, Mason City;
Brighton Robbins, Lincoln;
Katlyn Steffens, Lincoln;
Connor Trexler, Pana.
President's List (GPA 3.75-3.99)

Ashlyn Carroll, Lincoln;
Alec Coggins, Delavan;
Alexis Crawford, Lincoln;
Marsha Darlington, Lincoln;
Michael Everhart, Emden;
Horchem Tyler, Lincoln;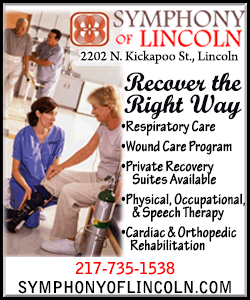 President's List (GPA 3.75-3.99) cont.
Cory Hull, Mason City;
Ezra Israel, Tremont;
Keely Lineback, Lincoln;
Emily Sanders, Lincoln;
April Wilson, Lincoln.
Dean's List (3.25-3.74)
Colton Amberg, Lincoln;
Alexis Beard, Lincoln;
Madison Ewald, Lincoln;
Lacey Green, Lincoln;
Arriana Hoerbert, San Jose;
Kaylyn Hoffert, Lincoln;
Aron Hopp, Lincoln;
Josiah Keller, Lincoln;
Keri Martin, Clinton;
Joshua Matthews, Delavan;
Emma Nepolello, Lincoln;
Dakota Onken, Manito;
Kalliegh Rogers, Lincoln;
Stormie Snider, Hartsburg;
Jaylee Swinford, Lincoln;
Ryan Thomas, Lincoln;
Jenah Thompson, Mason City;
Ty Tucker, Middletown;
Meranda Vieregge, Middletown;
Anna Walters, Lincoln.
[Mark Gordon
Public Relations and Media Manager
Lincoln College]