Send a link to a friend Share
JUNE 2017
---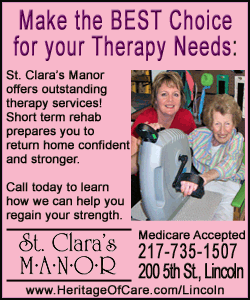 Thursday, June 29
Juggling Jeff at 'Thursday at the library'
HOSTED BY: Lincoln Public Library
WHO: Children and families
DETAILS: Please register for this event by calling 732-5732.
WHERE: Lincoln Public Library Annex
WHEN: 10 a.m.
Summer Food Program for Youth
HOSTED BY: District 27 Schools, First Presbyterian Church of Lincoln, University of Illinois Extension 4-H, and the Abraham Lincoln Memorial Hospital
WHO: All youth under the age of 18
DETAILS: the program will provide free lunches to children 18 or younger on Tuesdays and Thursdays. All meals will take place at the Lincoln Junior High from 12pm to 1pm. No to-go meals are available. Adults attending with the children may purchase a lunch for $3. Participants are also invited to take part in free activities from 11:30am-12pm. On Tuesdays the University of Illinois-Extension office will be providing a free educational activity and on Thursdays the Crazy CATCH Lady will lead participants in fun gym activities to promote physical fitness.
WHERE: Lincoln Junior High School
WHEN: 11:30 a.m. activity time, Noon to 1 p.m. lunch
Friday, June 30
Civil War Ball
HOSTED BY: Logan Railsplitting Association
WHO: Public with paid ticket
DETAILS See advertisement in Lincoln Daily News
WHERE: American Legion Post 263 ballroom, 1740 Fifth Street, Lincoln
WHEN: 7 p.m. to 10 p.m.
Oklahoma!
HOSTED BY: Lincoln Community Theater
WHO: Public with paid ticket
DETAILS Tickets available at lincolncommunity theater.org of phone 217-651-4271
WHERE: Lincoln College Johnston Center for Performing Arts, 300 Keokuk, Lincoln
WHEN: 7:30 p.m.
JUNE | JULY