Borst Bonanza Steakhouse celebrates 35 years with a 35 cent steak
Send a link to a friend Share
LINCOLN - Who doesn't love a really good deal when it comes to eating?

The Borst family is celebrating 35 years serving delicious food to customers in Lincoln. To show their appreciation to the community they are offering a delicious mouth-watering deal.

"We are excited," said owner Brett Borst. "We were trying to think of something different to reward the community so we came up with the idea of 35 years and 35 cents. When you purchase a buffet, you get a 5 oz. sirloin steak for 35 cents." The three-week promotion began on Monday, June 19th.

So many families throughout the community have memories of going to Bonanza to eat. The food is always the main reason to go to Bonanza, but yet the entire dining experience offers so much more. You know you are going to eat a variety of delicious food and if you go away hungry, it's your own fault. But the Borst Bonanza Steakhouse experience is so much more than just filling your stomach.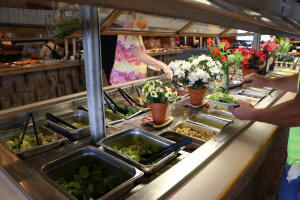 The famous Bonanza salad bar featuring cold
items made from scratch.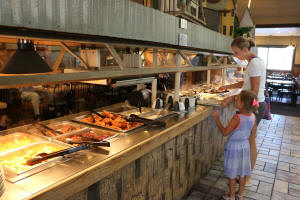 Customers eye the wide variety of hot food.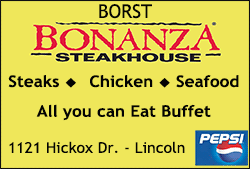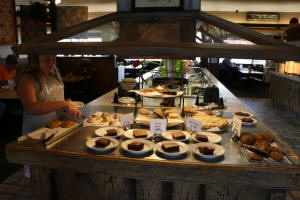 No one can skip the delicious desserts at Bonanza.

It's about the camaraderie with family and friends, sitting, talking and reminiscing, while eating in a family-friendly, God-loving atmosphere. Piping hot rolls and chocolate chip cookies served to the table fresh out of the oven by a smiling face add to the pleasurable dining experience.

Sitting down with the Borst family this week to talk about the promotion that just kicked off the day after Father's Day, which happens to be the second busiest day of the year for the restaurant (behind Mother's Day) was just like visiting with old friends.

John Borst, who is now affectionately known as Grandpa "B" around the restaurant, reminisced as his wife Marjorie, son Brett, granddaughter Emily and General Manager Candace Dieckow all gathered around.

"My father had the Bonanza in Springfield, Illinois," began John. John's parents, Barden and Alyce Borst, moved from Niles, Michigan, in 1967 to start the Bonanza Restaurant on East Clearlake Road. It became a well-known and popular eating place for many years, according to the Borst Family Bonanza history compiled over the years.

John continued, "We moved here in 1981 from Niles, Michigan. Up in Michigan we had a chain of fifteen cent hamburger places like McDonalds. We sold those restaurants and came down here and bought this restaurant. All of our families are in the restaurant business. Marjorie's brother was founder of Bojangles, a chain in the southern states, and my daughter's husband works for Jimmy John's and my folks, of course, were in the Bonanza chain, so that's where we get it. We passed it on to Brett." Brett is also known around the restaurant as Mr. "B" to the staff.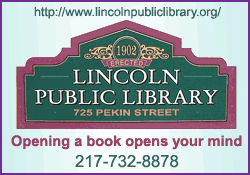 John explained that Marjorie's mom and dad also had a famous restaurant in Niles, Michigan for many years. "So the restaurant business is in our blood," said John Borst. "Not that the name of the restaurant was famous for being a chain operation, but as he explained, "Back then it was the only restaurant in town because there weren't that many restaurants at that time." Therefore, it was famous.

John and Marjorie Borst purchased the Bonanza in Lincoln after it had been repossessed by a bank in Champaign. The John and Marjorie Borst family opened the Lincoln business on February 17, 1982, under the elder Borst's philosophy.

"Grandfather also told us that there was a philosophy in the food business that when competition came to town we always would worry about the competition and he would tell us, "There's nothing you can do about the competition, what food they serve, but there's everything you can do about your own food," said John Borst.

With so many family influences on John and Marjorie Borst, the burning question was - What did they decide to do that was special for the Bonanza of Lincoln, Illinois, to make it their own?

"Well I borrowed a lot of money," John said with a big smile. "And so that was my motivation."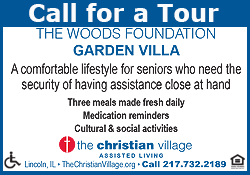 John went on to explain further reasoning behind the new business venture. "Our family had decided that we would claim the verse in the bible that says, "A good name is better than wealth."

"We really wanted to concentrate on getting a good name and so we tried to build a business with a good name," John said. Thirty-five years later that has clearly been a successful theory on which to build a thriving business.

"We are very appreciative of the community supporting us," said John Borst.

Now qualified to retire, how is retirement
going for Grandpa and Grandma "B" these days?

"Well, I am not totally retired. Brett still makes us work a little bit," said John, with Brett laughing in the background. "We still do the decorating and some of the office work," said John.

As business partners and marriage partners, John and Marjorie are a successful duo. "It kind of fell into place when we got here," said John casually. "I was in charge of the back of the house, and the crew and Marjorie was in charge of the dining room and pouring coffee. She poured so much coffee when we first started that she got big calluses on her fingers. So really Brett and I both know that she (Marjorie) is the secret to our success."

Son Brett was twenty years old when his parents purchased the Bonanza in Lincoln. "It was fun to work with my family. I've never worked for anybody else but my father," said Brett. "When we came here, I had done construction work before, but I found out I liked the restaurant business better."

Preparing food and meeting people's needs were things that Brett immediately liked about the restaurant business. Over the years Brett has enjoyed investing in his employee's lives and seeing them become successful.
"We have a number of second generation employees right now. We actually have one of our assistant managers whose father used to manage for us. I am just carrying on what my parents taught me. Those were my goals, too," said Brett Borst.

Reflecting on his youth and the time spent learning the business under his father, Brett said, "Early on I decided this is what I wanted to do. He just mentored me and taught me. So, whatever I could read on it, I was a sponge. I just enjoyed it so much."

Brett clearly loves what he does and has a passion for it. The admiration for his father is clear in conversation as well.
Brett's daughter, Emily, is also involved in the business on a part-time basis. "I grew up here and was taking around rolls and cookies at the age of twelve probably," Emily said. "It's definitely a blessing to work with Dad and see his relationship with Grandpa. It was a learning experience for me from a young age. I got to see how to really be under that authority and see that relationship grow. That's basically what I really got out of it. I definitely like to work with people and I studied social work in school."

Emily credits Grandma Marjorie Borst with teaching her about customer service and upon hearing that compliment the matriarch of the Bonanza family, sitting nearby, flashed a smile a mile wide.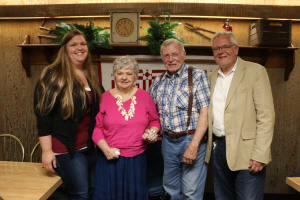 The Borst Bonanza Steakhouse family celebrates 35 years. Left to right GM Candace Dieckow, Marjorie Borst, John Borst and Brett Borst.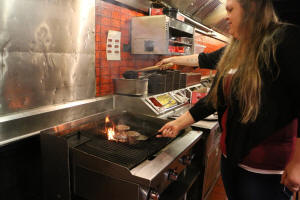 GM Candace Dieckow cooks chopped steak on the flame-broiled grill.

Brett Borst was also smiling when he introduced General Manager Candace Dieckow. It is evident that she is treated like family by the Borst clan.

"I was born in Canton, but Lincoln is my home," said Dieckow.

"I've been here at Bonanza eleven years in July," she said, also smiling. "Both my brothers worked here before as well."

Dieckow began working at Bonanza the summer she turned 17. "My brother got me the job. He was like "Hey, Mr. "B" my sister is looking for a job. Can you give her a job?" Mr. "B" came back with a simple, "Oh, a Dieckow? Sure, no problem."

She worked her way all the way up to General Manager and now even some of her recipes are featured at Bonanza.

"He's been a great boss," said Dieckow of Brett Borst. "I couldn't ask for a better boss to work for. He's like a second dad to me. He's taught me everything I know and I appreciate everything that he shows me. He continually shows me things because I still haven't learned everything, even after eleven years. It's just been a great experience for me. I was a lot different when I first started here. I was really sheltered and now that I've been in it for so long, I enjoy talking to people now."

Dieckow continued, "It's really nice to see regulars and to achieve regulars, too. Seeing new faces brought in and then them showing up again, that's really exciting in that aspect of it, too. It's hard to be a leader, but it's also a great accomplishment when the day is over and there's been success. It's a really fulfilling job."

Dieckow is the prime example of an employee who worked her way up from the bottom. "I started out as a roll and cookie girl, went up to host, went to cash, cooked on the front line and then prepped in the back of the kitchen. I've pretty much done it all except for wash dishes. I became an assistant manager in college and then once I graduated college I was here for about a year, and then I took over the general manager's position." Dieckow has been the General Manager for three years now and fits nicely into the role.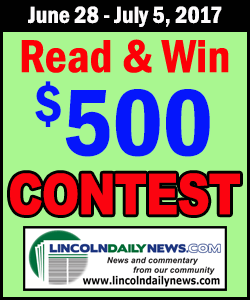 "It's definitely a responsibility that I take on and try to do the best I can. I enjoy it," said Dieckow. Brett Borst also teased that "someday we may be working for Candace."

"Treat your people like family and they will take care of your business," said Brett Borst, words that ring true as Dieckow spoke of her affiliation with the Borst family.

Dieckow added her own thoughts, "Not only do we want to make it a family restaurant for our customers, but we also try to make it a family environment for our employees, too. Because we do have second generations who have been here and they know that it's a good place to work. That's why we want to keep that name up that they've created as well. It's not just a good place for people to come and eat, but it's a good place for people to come and work. That's why I've been here that long and a lot of people tend to come back."

Those people have been coming back to see the Borst family and eat at Bonanza for 35 years and counting now.

The Borst family could not be more proud to serve the community. "The community has been good to us and we want to give back to the community," said Brett Borst.

"At the end of the day it's not about the food, it's about the relationships that keep people coming back," said Brett. "The relationships we have with customers and our employees is important to us. That's why we've enjoyed it for so long."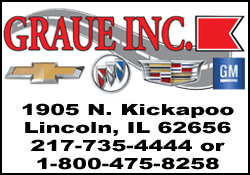 "We are the last Bonanza in Illinois," continued Brett. "There are still close to 100 stores in the United States. But we do a lot of stuff different because we make most of our food from scratch. A lot of the recipes are from my grandfather."

Brett also shared some wisdom from his grandfather. "My grandfather would always say because our business is very, very competitive, just because you have it today, you're not going to have it tomorrow. That's why we are doing the 35 cent steak deal. We want to keep improving and keep those people coming back."

Steaks, chicken, seafood and that hot and cold bar featuring everything from salads to pizza to desserts, all keep people coming back to 1121 Hickox Drive.


But wait, there is one more attraction that draws folks to the parking lot. "Curly" is the main attraction outside. Most people recognize the black and white steer that came to Lincoln in September 1995 and he has a name. According to the legend, "Curly" has been in the Borst family herd since 1968. Next year he will celebrate his "50th" birthday. After gracing 27 years in front of the Springfield Bonanza, "Curly" traveled old Route 66 to join the family at Lincoln Bonanza. People come from all over to get their picture taken with "Curly." The Borst family has even seen customers from the McDonald's next door come over for a picture.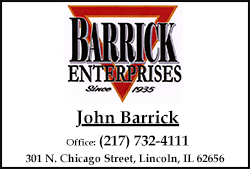 The lovable steer had a brush with fame in 2010 when high wind gusts of 47 mph whipped through Lincoln and tipped the beloved fella over. "Curly" also loves getting festive and dressed in lights at Christmas.

Now if you are really curious about the origin of the Bonanza restaurant, keep reading.

Brett Borst explained that Bonanza, the restaurant, started in 1962 in Eastchester, New York. "It's a little bit different than it is now, but they wanted to start a chain that had a family niche that wasn't met before," said Brett. "Of course, it took off from the TV show. They borrowed the name from that and gave the restaurant a country western theme." The popular television series, "Bonanza" ran from 1959 until 1973.

"One year later Ponderosa, the restaurant, started because of the success of Bonanza," Brett explained. Fans may recall that the Ponderosa Ranch was actually the name of the fictional ranch the Cartwright family took care of on the television show "Bonanza."

So, they were separate until the '90s," said Brett. Today Bonanza and Ponderosa are owned by the same parent company.

"A little Bonanza history that you wanted but were afraid to ask?" teased Brett. Some people still confuse Bonanza and Ponderosa, but as Brett put it, "As long as they come, I don't care."

The Borst family would like to thank the Lord for the many faithful employees who have served the people for the past 35 years. They are also grateful to God for blessing this business. The family would also like to thank the people of Lincoln and the surrounding communities for their continued warm and friendly support. The Borst family, along with General Manager Candace Dieckow and the great staff at Bonanza, care about serving their customers and they will do whatever it takes to get folks to come back again and again.

Congratulations to the Borst family on serving the community for 35 years!

[Teena Lowery]