Afghans who helped U.S. forces may get more visas under defense bill
Send a link to a friend Share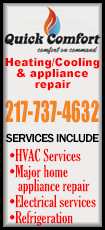 [June 29, 2017] WASHINGTON (Reuters) - The U.S. Senate Armed Services Committee approved 4,000 more visas for Afghans who worked for U.S. forces as interpreters or support staff on Wednesday, an effort to preserve a program that had been at risk of shutting down.

The committee included the additional visas in its version of the annual National Defense Authorization Act (NDAA), a must-pass piece of legislation that sets priorities for the Department of Defense budget for fiscal 2018, which will be about $650 billion.

The Senate and House of Representatives are currently working on separate versions of the legislation, which must be reconciled and passed by both chambers and signed by President Donald Trump before it can become law.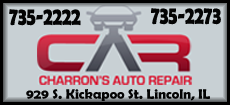 The Afghan Special Immigrant Visa (SIV) program allows Afghans who worked for the U.S. government, often risking their lives, to move to the United States after a rigorous vetting process.

Bipartisan pushes by U.S. lawmakers this year for more SIV visas have come against the backdrop of efforts by the Trump administration to clamp down on immigration from majority-Muslim countries.

In March, the U.S. embassy in Kabul said it had stopped scheduling interviews for SIV applicants because it had nearly run out of visas, but lawmakers included 2,500 more in a spending bill in April to preserve the program.

[to top of second column]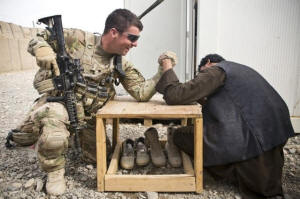 A U.S. Army soldier and a member of the Afghan Uniform Police arm wrestle prior to a joint patrol near Command Outpost AJK (short for Azim-Jan-Kariz, a near-by village) in Maiwand District, Kandahar Province, Afghanistan, January 28, 2013. REUTERS/Andrew Burton
"Our nation owes a great debt to the civilians who have provided essential assistance to the U.S. mission in Afghanistan, and I am very pleased that this legislation authorizes the necessary visas for these brave men and women," said Democratic Senator Jeanne Shaheen, who led the push for the legislation with Republican Senator John McCain, the Armed Services Committee's chairman.

(Reporting by Patricia Zengerle; Editing by Leslie Adler)
[© 2017 Thomson Reuters. All rights reserved.]
Copyright 2017 Reuters. All rights reserved. This material may not be published, broadcast, rewritten or redistributed.