Efficient Cards hand D-backs a rare loss
Send a link to a friend Share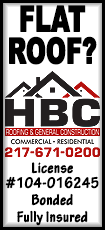 [June 29, 2017] PHOENIX -- For one night, the good old days were back for the St. Louis Cardinals.

Adam Wainwright started and dominated at times, and Trevor Rosenthal closed it out with his 100 mph fastball. Only with a lot more drama than a few years ago.

Jedd Gyorko drove in two runs, Wainwright limited Arizona to two runs over 6 1/3 innings, and the Cardinals made good use of all six hits for a 4-3 victory Wednesday night, only the third Diamondbacks loss in 16 games.

Arizona starter Zack Godley (3-2) gave up only two hits in seven innings but took the loss. He was hurt by his own wildness in the middle innings as he walked three, hit two batters and threw a wild pitch. He was charged with three runs, and he struck out seven.

The Diamondbacks -- the majors' hottest team since mid-May, with 29 wins in 40 games -- struggled to get key hits against Wainwright and relievers Tyler Lyons, Brett Cecil and Rosenthal, who finished up in the ninth rather than usual closer Seung Hwan Oh.

They also struggled all night with plate umpire D.J. Reyburn's wild strike zone, and it led to the fifth-inning ejections of catcher Jeff Mathis and manager Torey Lovullo.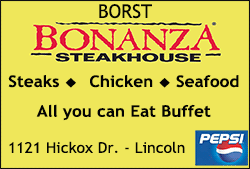 "I didn't think I said anything to be run from the ballgame, but obviously (Reyburn) did," Mathis said. "It was a culmination of a few things. He knows why, and it extends beyond the strike zone -- and I'll leave it at that."

Rosenthal's save was his fourth in six opportunities, but it didn't come easily. He walked two and threw two wild pitches -- one for a run -- before getting David Peralta to ground out with two runners on. He was slipping and sliding on a mound that Wainwright asked to be repaired earlier in the game, but St. Louis manager Mike Matheny couldn't get him to ask for any repairs.

"Rosey didn't agree (that a substance should be added to the mound). ... He was pretty adamant, but I can't make him change the mound. But he got through it," Matheny said. "The ball was sailing and slipping. ... But we needed someone to come on and do the job, close the door, and he's done it a lot. We know he has the stuff to do it. He trusted himself and stayed through it."

Even with a couple of slips along the way.

"Obviously, we never give up," Mathis said of the Diamondbacks' late comeback attempt. "We had a chance there at the end, just couldn't quite get it down. But they ground it out, for sure."

St. Louis, which gave up four runs over the final three innings to lose to Arizona 6-5 in 10 innings on Tuesday night, added an insurance run in the eighth Wednesday against reliever Braden Shipley. Matt Carpenter doubled to right and, after a pair of strikeouts, Gyorko doubled to center.

Wainwright (8-5) gave up eight hits and walked one but struck out eight while repeatedly getting key outs when he needed them. He struck out Paul Goldschmidt to leave the bases loaded in the third, limited Arizona to a run despite giving up two doubles to start the fourth, and got Brandon Drury to line out following Chris Owings' two-out double in the sixth.

"That's probably the best fastball he's had all season," Matheny said.

The Cardinals had lost four of their previous six and 16 of their previous 25. Arizona lost for only the second time in its past 13 at Chase Field.

[to top of second column]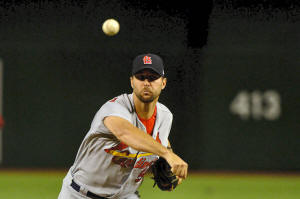 Cardinals starting pitcher Adam Wainwright (50) pitches during the first inning against the Arizona Diamondbacks at Chase Field. Mandatory Credit: Matt Kartozian-USA TODAY Sports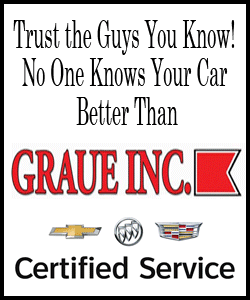 "It's fun winning," Cecil said.

The Cardinals didn't get a hit off Godley for the first three innings, then needed only two singles to take a 3-0 lead in the fourth with the help of some wildness.

"He was really superb. ... It was just the one inning he ran into some problems," Lovullo said.

The right-hander walked Carpenter and hit Stephen Piscotty with a pitch around Tommy Pham's single, and Gyorko also walked to force in a run. Yadier Molina then laced a two-run single to left field, making it 3-0 and extending his hitting streak to 14 games.

"Guys grind through at-bats, and Yadi gets a real big hit right there, and that's what it takes, that timely hitting," Matheny said.

Arizona got a run back against Wainwright in the bottom of the fourth on successive doubles by Jake Lamb and Owings but missed a chance to pick up additional scoring when the right-hander struck out Drury, Rey Fuentes and Mathis in succession. Drury and Mathis both went down on contested third strikes.

Drury managed to stay in the game despite taking a slow walk back to the dugout, but Reyburn ejected Mathis for arguing too much. Lovullo also was quickly tossed when he raced out of the dugout out to protest.

The ejections were the Diamondbacks' first this season.

"We played catchup all night and unfortunately came up short at the end," Lovullo said.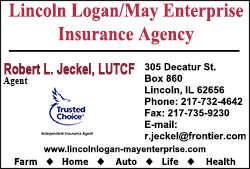 NOTES: Cardinals SS Paul DeJong was brushed by a fan who ran onto the field and nearly reached the infield before five security guards corralled him. ... Diana Taurasi, who recently became the WNBA's all-time leading scorer, threw a high, hard fastball during the ceremonial first pitch. It was a much more impressive throw than that last week by Suns first-round pick Josh Jackson, whose soft toss landed about 15 feet wide of home plate. ... The Cardinals made a somewhat surprising move, demoting 2016 NL All-Star INF Aledmys Diaz to Triple-A Memphis and bringing up INF Alex Mejia, who recently was promoted from Double-A Springfield to Triple-A Memphis. Diaz was batting .261 and had a team-high 71 hits. ... Diamondbacks INF Nick Ahmed will be out six to eight weeks with a fractured right hand that required surgery Wednesday to insert three pins. He was replaced by INF Ketel Marte, who led all minor-leaguers with 105 hits for Reno of the Pacific Coast League.
[© 2017 Thomson Reuters. All rights reserved.]
Copyright 2017 Reuters. All rights reserved. This material may not be published, broadcast, rewritten or redistributed.