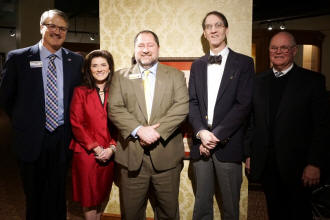 Lincoln Heritage Museum Opens New Exhibit - "Lovers of Liberty, Take Courage!"

Send a link to a friend Share
[March 02, 2017] LINCOLN - The Lincoln Heritage Museum at Lincoln College opened its new exhibit titled, "Lovers of Liberty, Take Courage!" on Monday, February 13th. The new exhibit showcases displays of courage from such historical figures as Harriet Tubman, Elijah P. Lovejoy, and Harriet Beecher Stowe. The exhibit also marks the first time that the Lincoln Heritage Museum has collaborated with the Abraham Lincoln Presidential Library and Museum in building an exhibit.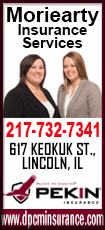 "We are very excited to partner with the Abraham Lincoln Presidential Library and Museum to help put together such an interesting exhibit that I'm sure will impress and inspire our visitors" stated Lincoln Heritage Museum Director Tom McLaughlin.

"It has been a true pleasure to work with such Lincoln scholars as Ron Keller and Kathryn Harris to build this display and tell this story." said Anne Moseley, Lincoln Heritage Museum Assistant Director and Curator.

"Those who stood for freedom, who spoke for freedom and gave freely of themselves for freedom--including that last full measure--are rightfully honored and remembered in this exhibit. May you, the visitor, find in this exhibit one piece of information and inspiration that will encourage and enable you to stand for a righteous cause." said Kathryn Harris, President of the Abraham Lincoln Association

The "Lovers of Liberty, Take Courage!" exhibit has been generously sponsored by Gehlbach Marquez P.C., a law firm in the city of Lincoln. "In the tradition of Abraham Lincoln and his life as an attorney in central Illinois, I find it to be a perfect fit that our sponsor for this year's exhibit is also a law firm. It is through the generosity of Natalie Marquez and Gehlbach Marquez P.C. that we are able to put together such a compelling story showing various displays of courage and we cannot thank them enough for this new partnership!" said, McLaughlin.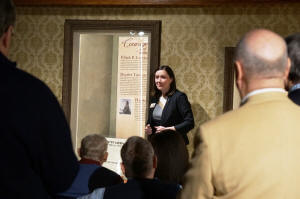 The "Lovers of Liberty, Take Courage!" exhibit is now on display and will continue to be open to the public until the end of December. For museum hours and any additional information, contact the Lincoln Heritage Museum at (217) 735-7399 or visit http://museum.lincolncollege.edu.
[Christina Xamis
Public Relations & Media Manager
Lincoln College]