Nurkic powers Blazers past Thunder
Send a link to a friend Share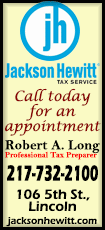 [March 03, 2017] PORTLAND, Ore. -- There is a new man in the middle for Portland, and the Trail Blazers like what they are seeing.

He is Jusuf Nurkic, the 7-foot, 280-pound center who came to Portland in a deal with the Denver Nuggets at the trade deadline.

In his fifth game with the Blazers and his home debut, the "Bosnian Beast" filled up the stat sheet in a 114-109 victory over the Oklahoma City Thunder on Thursday night at Moda Center.

Nurkic contributed 18 points on 7-of-10 shooting to go with 12 rebounds and career highs in assists (six) and blocked shots (five) in 38 minutes.

"I feel great to be here," said Nurkic, who was backing up Nikola Jokic with the Nuggets. "I'm excited every day to spend it with these guys in this city. They gave me a lot of opportunity when I came here. I know I'm going to be on the court. I just try to play and have fun."

"(Nurkic) made a big impact on the game -- rebounding, blocking shots, passing," Portland coach Terry Stotts said.

"He gives us something we haven't had for the last two years," said Damian Lillard, who scored 33 points for the Blazers. "He's a guy who can get the ball on the block and pass and really score. He has good skills and a good feel for the game."

Six players scored in double figures for the Trail Blazers, who used a late 16-0 surge to win for only the third time in 10 outings.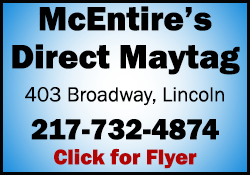 Russell Westbrook scored 45 points for Oklahoma City but made only 12 of 36 shots from the field. Enes Kanter came off the bench for 18 points and 10 boards for the Thunder, who saw the end to a four-game win streak.

Oklahoma City led 101-94 inside six minutes to play, then went nearly five minutes without a point as Portland scored 16 in a row to go ahead 110-101.

Andre Roberson snapped the Thunder's drought with a pair of free throws to cut Portland's lead to 110-103 with 58.3 seconds left. Westbrook's three-point play drew the Thunder to within 110-106, and Alex Abrines' trey with 17.7 seconds to go cut it to 110-109.

Lillard sank two free throws with 14.1 seconds left to make it 112-109. After a timeout, Westbrook rimmed out a 3-point attempt. Lillard's two foul shots with 8.4 ticks left clinched the verdict.

"Near the end, we were not able to score," Oklahoma City coach Billy Donovan said. "We missed shots and didn't finish plays at and around the basket. That was the difference. And (the Blazers) got some offensive rebounds, a couple of threes -- those plays hurt us."
Westbrook scored 28 first-half points as Oklahoma City closed on a 12-0 run in the final 1:17 to take a 60-57 lead into the break. Lillard had 14 first-half points and CJ McCollum 12 for the Blazers.

[to top of second column]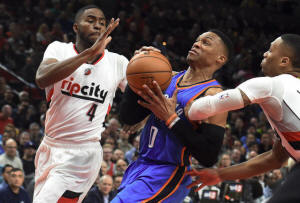 Thunder guard Russell Westbrook (0) drives to the basket on Portland Trail Blazers forward Maurice Harkless (4) and guard Damian Lillard (0)during the first half of the game at Moda Center. Mandatory Credit: Steve Dykes-USA TODAY Sports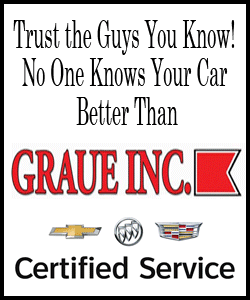 Oklahoma City (35-26) upped the difference to 66-60 early in the third quarter, but Portland (25-35) used a 9-0 spurt to go ahead 69-66. The Thunder carried an 85-81 edge into the final period.

The Thunder extended the margin to 97-89 with 7:30 to go. The Blazers drew to within 101-97 on Nurkic's three-point play with 5:21 left, then made it 101-99 on a Nurkic layup.

Al-Farouq Aminu converted a layup, then Nurkic scored in a tip-in to give Portland a 103-101 lead. Lillard followed with a 3-pointer, and it was 106-101 with 2:51 to play. McCollum knocked down four straight at the line, and Portland held a 110-101 advantage with 1:37 remaining.

NOTES: Oklahoma City F Taj Gibson connected on a baseball throw from 60 feet as the horn sounded to end the first half. During a promotion between the third and fourth quarters, a fan -- Peter Crum from Beaverton, Ore. -- swished a left-handed shot from half-court to win a new Toyota Sienna. ... Oklahoma City G Victor Oladipo (back) missed his fourth straight game. Coach Billy Donovan said he is hopeful Oladipo will be able to return to action in a rematch with Portland on Wednesday at Chesapeake Energy Arena... Portland F Ed Davis (shoulder) is facing surgery and will miss the rest of the season. ... Portland F Evan Turner (hand) is expected to get his cast off Friday. His return to action should come next week. ... G Damian Lillard has made a 3-point shot in 40 consecutive games, one short of the Blazers record held by Cliff Robinson (1995-96). ... Portland G CJ McCollum scored in double figures for the 51st consecutive game.
[© 2017 Thomson Reuters. All rights reserved.]
Copyright 2017 Reuters. All rights reserved. This material may not be published, broadcast, rewritten or redistributed.