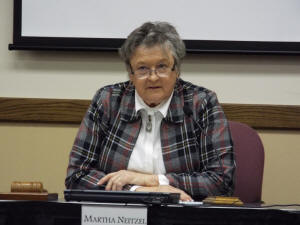 Neitzel offers up an early farewell with many "Thank-you's" to aldermen and city departments
Send a link to a friend Share
[March 09, 2017] LINCOLN - The Monday evening meeting of the Lincoln City Council began with public comments from Mayor Marty Neitzel.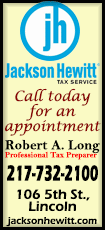 Neitzel said that she was choosing to speak now regarding her coming departure from Lincoln government because she felt that her last meeting as Mayor of Lincoln would be too emotional.

Neitzel said she wanted to start by thanking the city council members for appointing her to serve as mayor after the death of Mayor Scott Cooper. She went on to say she wanted to thank the community and the voters who supported her in the February 28th Republican Primary.

Next on her list was a sincere thank-you to City Administrator Clay Johnson. She noted that he was always available when she needed his knowledge. She noted that he took the time to explain things to her when she had questions and had been very helpful in helping her to understand contract negotiations.
Neitzel said that the city department heads had also been very supportive. She noted that the city is lucky to have heads who are invested in Lincoln, and take pride in their town. She finished saying she was very proud of the city departments.
Susan Gehlbach and the staff in the City Clerk's Office was next on Neitzel's list. She noted that Gehlbach and all of the staff had been very patient and informative as Neitzel learned about the mechanics of her role as mayor. She noted that they had also helped with navigating certain office equipment and working with her computer.

Neitzel ended by saying, "I would like to congratulate Mr. Goodman. He is a successful businessman, and I will ask the citizens of Lincoln to give him their support and their patience as he takes on his new role as mayor.

After a round of applause from the aldermen and guests in the gallery, Neitzel added one last comment, "I love Lincoln, it is in my heart, I love this town, and I will always love it. It is just very, very special to me."
[Nila Smith]