Opioid Work Team Meeting Planned for March 16
Anyone interested in joining a work team invited to attend

Send a link to a friend Share
[March 11, 2017] LINCOLN - According to the National Survey on Drug Use and Health, heroin use has increased significantly in the past few years, and it continues to rise.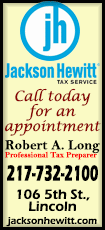 The number of people who die from heroin-related overdoses in the United States is nearly four times what it was a decade ago. On Thursday, March 16 from 11:30am-1pm, partners across Logan County will continue efforts to address opioids in Logan County.

"Our community collaboration efforts to address the opioid epidemic in Logan County began over year ago. We now have established work teams and meaningful objectives to guide our efforts," said Angela Stoltzenburg, manager of Healthy Communities Partnership.

"At the March 16 meeting our work teams will meet to discuss our progress on activities ranging from community awareness, family influence campaigns, support of law enforcement efforts, increased naloxone access/training, and more. We invite any members of the public to join a work team to help our efforts," said Stoltzenburg.
If you would like information about the upcoming meeting, contact Angela Stoltzenburg at Healthy Communities Partnership by calling 217-605-5008. HCP is funded by the Abraham Lincoln Memorial Hospital Foundation.
[Angela Stoltzenburg, MBA
Marketing and Community Partnerships Manager
Abraham Lincoln Memorial Hospital
Healthy Communities Partnership]