Hartsburg-Emden punch card needs one more to take State Champion title
Send a link to a friend Share
[March 13, 2017] Hartsburg-Emden's punch card getting full as they punch their ticket to the state championship match.

Hartem continued taking care of business on the volleyball court by shooting past Jacksonville Our Saviour 25-8 and 25-14 in the state semifinals at Clinton Junior High School on Saturday.

If the IESA handed out punch cards for the state championship match, Hartem's card would be getting full. The Stags have already won 6 of the last 10 Class 7-1A State Championships and will go for yet another title on Tuesday night. The Stags (25-2) will take on Grayville (22-0) at 6:45 p.m. at Clinton Junior High School.

Early Saturday evening in the semifinals the Stags literally had no trouble getting past the team from Jacksonville.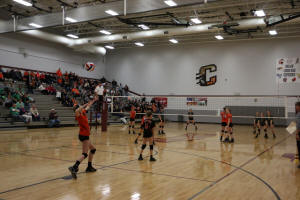 The Stags were focused from the first serve in this match and that allowed them to jump out to a 14-4 lead that left Jacksonville wondering what they had gotten themselves into. After a multitude of Shamrock errors which ended in a net serve, the Stags were rolling 18-7 in set one.

The Stags would allow the Shamrocks to put one more point on the board before making a run for it.

Jenna Benner's serve that traveled over the net quickly, and then just seemed to drop out of mid-air, left Jacksonville stunned.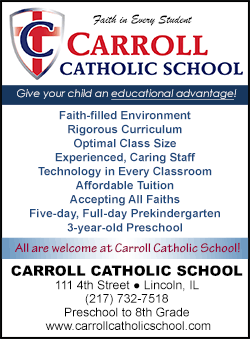 The score was 22-8 at this point and the Shamrocks were shaking like a leaf.

Hartem stormed to the 25-8 win without blinking an eye.

The Shamrocks put up more of a fight in the second set and at one point, tied the Stags 4-4.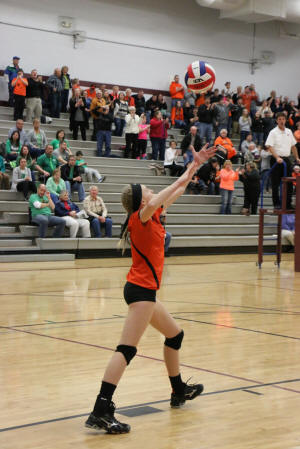 Lily Barry is all about being focused on the game

Back to back kills by Lily Barry gave Hartem a 6-4 lead and the sixth grader was creating quite a buzz at this state tournament. In fact, the athletic trainer on hand was singing the praises of Barry. Things like "her approach is perfect, she is playing like a college athlete, she's unreal" were all muttered by the trainer who had no idea Barry was just in sixth grade.

Barry would rack up another kill to make the score 7-4. Then, just to prove she was human Barry hit the next one in the net.

Jacksonville had a little firepower of their own in the unreturnable serving of Gillian Wooldridge. Her back-to-back aces even allowed the Shamrocks to take the lead, 8-7.

But it never takes Hartem long to regain control and back to back aces by Barry put the Stags in front 10-8. Hartem would continue to build leads of 13-9 and 17-12, all the while Jacksonville struggled.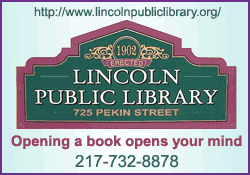 The Shamrocks got their wires crossed up on a play late in set two and that pretty much spelled the end of things for the green and festive team. 19-14 would be as close as Jacksonville would come in this one.

Jumping for joy

Hartem used aces, kills and just flat out hustle during every volley to win set two 25-14.

Get that paper puncher out and find the card from last year, folks, Hartem has blazed a trail to the state championship match again. This time the Stags have a date for Tuesday night at 6:45 p.m. with Grayville and Stags Head Coach Jennifer Hayes couldn't be happier.

And after all these wins and interviews that follow, Coach Hayes is still not at a loss for words. "I never run out of things to say," she said. "What would you like?" she added with a smile.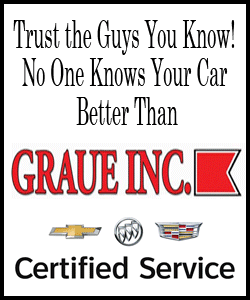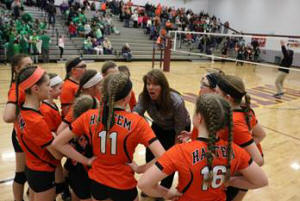 Coach Hayes has done it again

First off, how about these awesome Stags!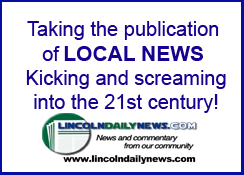 "They were real solid," she answered. "I just didn't know coming into today. We've been tight, you know, in the last couple games and I thought we came in and played smooth. There were some mistakes that we made but they are seventh graders, sixth graders and fifth graders. I mean to come in and serve the way they did and pass the way they did, we had a definite game plan. We scouted both teams that we thought we would play and they kept to the game plan, which I thought was really good. I thought we got everybody the ball. I know Lily gets a lot of the sets but the other ones outside of her did their job. I thought we played the net well. The balls never dropped. We saved things. I mean they just went after it and that's what you want to see at this level. I told them before we came in, regardless of what happens, I knew how nervous they were, that as long as you go out and play hard it doesn't matter what happens. Give yourself a chance. Go out and when you leave make sure you left nothing out here. And I don't think they did. I think they gave everything they had."

More words of wisdom coming from the coach who unknowingly has others singing her praises. What makes her click and how about that positivity she possesses and relays to her student-athletes?

"In all the years that I have done it and right now it's been a lot of years," she begins to think back, "Let's see I started in '94….so 1994 was my first junior high season. When I was young, 21, I was encouraging, but I was a bit fiery. Now I still have the fire inside, but I realize not everybody is like me and not everybody can be yelled at. Not everybody can take that. I just really started to try to learn the game and learn the psyche of it, I guess. And so much more can be done with praise than with negativity.

"The best way to make a player play the best that they can is to make them believe that they can. So that is always my goal for every player that I have to make them the absolute best that they can be. They might not be as good as the one next to them, but they have reached their potential and every child has the right to be the best that they can be. I try to pull that out of each of my players, whether they're on the bench or on the court."

It's working….just look at all her players.

Lily Barry, for one, is a sixth grader who has already seen and picked up on Coach Hayes' encouragement. Barry was heard encouraging her teammates in the huddle Saturday and when asked what she was telling them, she answered, "I was telling them that we are ready to win this and we are here to win it all. We are not just here to lose. They all said that they want to come out and win and we did it."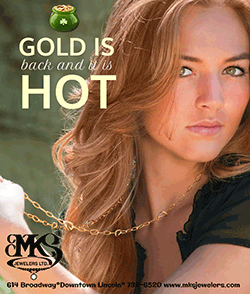 Barry's focus is undeniable on the court. She is mature way beyond her years. Of course, she has tons of experience already. She says she started playing volleyball around the age of three. She first started playing for Coach Hayes and she also continues to train with a guy named Mike Swingle, a very familiar face to local athletes. "I was in the gym kindergarten thru…now," she smiled.

Barry also started Illini Elite in the third grade. She doesn't remember picking up the volleyball for the first time, but chances are pretty good that her older sister, Lexi Barry, had something to do with it. No matter how she started, Barry has an instinct, a focus, a drive, a way that she conducts herself on the court that is remarkable at her young age.

Coach Hayes will no doubt keep Barry grounded for the most part, except for when it's necessary for her to take flight and airmail the volleyball to another zip code.

If you don't believe what you just read, come to the Clinton Junior High School Tuesday night and catch Barry and all the Stags in action. You will be impressed.

See you Tuesday night in the championship match

Congratulations and GO STAGS!

Stags stats

Lily Barry 13 kills 8 aces
Allison Woolard 11 assists
Cassie Bridges 3 digs

[Teena Lowery]