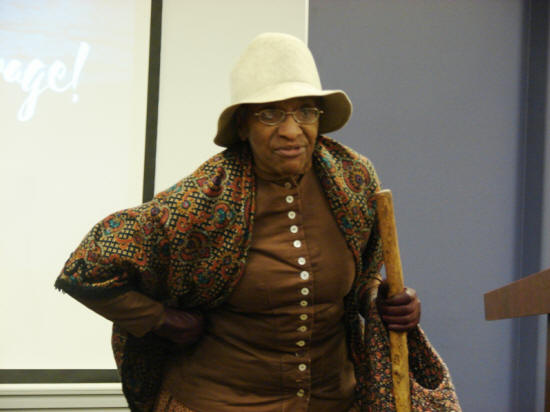 Kathryn Harris brings abolitionist Harriet Tubman to life at Lincoln Heritage Museum

Send a link to a friend Share
[March 14, 2017] LINCOLN - The latest exhibit at the Lincoln Heritage Museum on the campus of Lincoln College is entitled "Lovers of Liberty, Take Courage," words spoken by President Lincoln during the darkest days of the Civil War.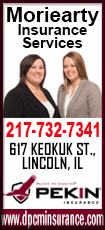 In order to highlight the theme of the exhibit, the museum is hosting a series of lectures by first person historical interpreters. The interpreters selected 19th century people who displayed extraordinary courage in this turbulent era of American history.

Friday evening Kathryn Harris of Springfield brought her portrayal of Harriet Tubman to the museum.

Harris is well-known in the local historical community for her service at the Abraham Lincoln Presidential Library and Museum. She recently retired as the director of the library at the museum. She is a member of the Abraham Lincoln Association and the African American Museum in Springfield.

Harris also was instrumental in crafting the Lincoln Heritage Museum's latest exhibit by providing access to the ALPLM artifacts that were loaned to the LHM.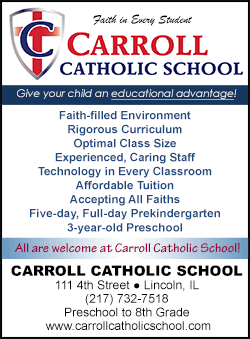 Why portray Harriet Tubman? A cursory look at Tubman's accomplishments shows extraordinary courage in gaining her own freedom from slavery and rescuing many other slaves from involuntary servitude. Tubman was born into slavery in Maryland, but determined early on that her liberty was a vital part of her life. She escaped to the north and freedom as a young woman.

While in Philadelphia, Tubman joined with local Quakers to become a part of the Underground Railroad, a group determined to bring as many slaves out of the south and to freedom as possible. Tubman became a conductor on the Underground Railroad, a person who actually made the dangerous trip into slave holding states and brought slaves north through a series of safe houses that were set up.

Tubman made thirteen trips to Maryland to rescue her siblings and on her final trip rescued her parents and brought them north to Canada where they would be safe from the reach of the Fugitive Slave Act.

Known as Moses to her many grateful passengers on the Underground Railroad, she never lost a person on the perilous trip north to freedom. She was so notorious among slave holders that they put a $40,000 bounty for her capture.

During the Civil War, Harriet Tubman served as a nurse, scout and spy for the Union, continuing her life of extraordinary courage and service to the cause of freedom for slaves. After the war, she worked for the Freed Man Bureau teaching freed slaves how to be free, to read and write and actually be paid for their work. Harriet Tubman never learned to read and write, but was a force of nature even without these skills.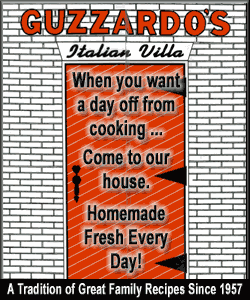 Kathryn Harris began immersion into her role as an historic interpreter of Harriet Tubman by reading everything she could locate on this icon of the abolitionist movement. She was a regular visitor to the State Historic Library when it was located under the Old State Capital Building in Springfield.

Once she was conversant with the historical facts of Harriet Tubman's life, Harris created a script to follow for her first person presentation. As a first person historical interpreter, Kathryn remains in character throughout her presentation.

"I practiced one-on-one with Phil Funkenbush at the Presidential Museum to immerse myself in the Harriet Tubman persona. Phil is an actor, director and head of the Presidential Museum's performances. He was a stern task master, but when I could answer any question he put to me about Harriet's life, I knew I was ready for my first performance," she said. Kathryn Harris is proud of the fact that she has never been stumped by a question about Harriet Tubman's life.

Kathryn Harris becomes Harriet Tubman during her performance. Her acting skills are tremendous, and she is able to draw her audience into the performance. Standing before the audience at the Lincoln Heritage Museum in nineteenth century attire and large walking stick which she thumps on the floor when making a defining point, it was easy to be drawn into a moment in history by a person who helped eliminate the scourge of slavery. "I'm a natural ham and love to act before an audience," said Harris with a laugh.

The Lincoln Heritage Museum will host a continuing series of presentations by historic interpreters during 2017. Check the Museum's website for dates. Mr. Lincoln's words "Lovers of Liberty, Take Courage" resonate through the ages and have powerful meaning for the present world.

[Curtis Fox]