Tillerson calls for 'new approach' to North Korea, no details
Send a link to a friend Share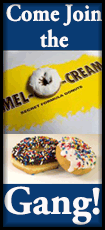 [March 16, 2017] By Elaine Lies and Kiyoshi Takenaka

TOKYO (Reuters) - U.S. Secretary of State Rex Tillerson said on Thursday the escalating threat from North Korea's nuclear program showed a clear need for a "new approach," although he stopped short of detailing what steps the Trump administration would pursue.

Tillerson was speaking at a news conference following talks with Japanese Foreign Minister Fumio Kishida in Tokyo, the start of his first trip to Asia as secretary of state. It was the first time Tillerson, a former oil executive with no prior diplomatic experience, had taken questions from the media since coming into office in early February.

Two decades of diplomatic and other efforts, including aid given to North Korea by the United States, had failed to achieve the goal of denuclearizing Pyongyang, he said.

"So we have 20 years of failed approach," Tillerson said. "That includes a period where the United States has provided $1.35 billion in assistance to North Korea as an encouragement to take a different pathway."

He added: "In the face of this ever-escalating threat, it is clear that a different approach is required. Part of the purpose of my visit to the region is to exchange views on a new approach."

Tillerson visits South Korea and China later in the week. The New York Times reported on Wednesday he will warn Chinese officials that the United States would increase missile defenses in the region and target Chinese banks if Beijing does not constrain North Korea's nuclear and missile ambitions.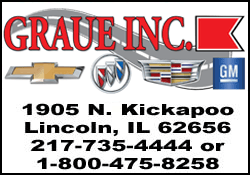 State Department spokesman Mark Toner said on Wednesday that Tillerson will have "substantive, hard" talks with U.S. partners in Asia on next steps in dealing with North Korea, but his visit was not likely to produce an immediate specific response.

In Beijing, Chinese Foreign Ministry spokeswoman Hua Chunying repeated Foreign Minister Wang Yi's proposal last week that North Korea should stop its nuclear and missile tests and South Korea and the United States should stop joint military drills and seek talks instead.

"We welcome all parties, including the United States, to come up with their own proposals," Hua told a daily news briefing. "As long as these proposals are conducive to ameliorating the present tense situation on the Korean peninsula and are beneficial to maintaining regional peace and stability ... China will have an open attitude."

Tillerson made it clear he expected China, North Korea's sole major ally, to do more.

"We will be having discussions with China as to further actions we believe they might consider taking that would be helpful to bringing North Korea to a different attitude about its future need for nuclear weapons," he said.

SEEKING CLUES

Tillerson had not previously answered questions from reporters during his six weeks in office, and his comments in Japan were eagerly watched by international observers for indications as to what they meant for the Trump administration's foreign policy.

Japan is seeking clues to Washington's policies both on North Korea and China's increasing military and economic clout while hoping to steer clear of trade rows.

During his stop in Tokyo, Tillerson also met Prime Minister Shinzo Abe and had dinner with Kishida.

U.S. President Donald Trump made it a hallmark of his presidential campaign to call on U.S. allies, including Japan, to pay more for hosting U.S. forces and other elements of American protection.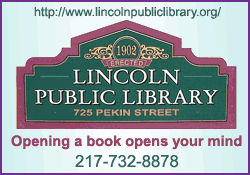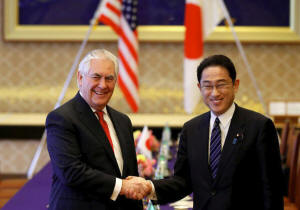 U.S. Secretary of State Rex Tillerson (L) shakes hands with Japan's Foreign Minister Fumio Kishida before their meeting at the foreign ministry's Iikura guest house in Tokyo, Japan, March 16, 2017. REUTERS/Toru Hanai
During the joint news conference with Kishida, Tillerson issued a far gentler version of that message, first underscoring the "long-standing" U.S.-Japanese alliance.

"While the security environment in this region can be challenging, the United States is committed to strengthening our role, and we welcome an increased Japanese commitment to their roles and responsibilities in our alliance," he said.

Tillerson is the second member of Trump's cabinet to visit Japan. Defense Secretary Jim Mattis visited last month, and Vice President Mike Pence is due to visit in April, underscoring U.S. concerns surrounding North Korea's missile and nuclear programs. Abe was the first foreign leader who met Trump after his November election win.

North Korea last week launched four more ballistic missiles and is working to develop nuclear-tipped missiles that can reach the United States, in defiance of U.N. Security Council resolutions and sanctions.

Washington has previously said all options, including military, are on the table in its review of policies toward North Korea and Japanese officials are keen to know more details. In the final months of the Obama administration, U.S. officials warned China it would blacklist Chinese companies and banks that do illicit business with North Korea, if Beijing failed to enforce U.N. sanctions against Pyongyang.

Tillerson's trip to Asia also comes as the United States has begun deploying the Terminal High Altitude Area Defense (THAAD) missile defense system in South Korea, a move that China strongly objects to because it sees the system's radar as a threat to its security.

Pak Myong Ho, a North Korean embassy official speaking in Beijing on Thursday, said the THAAD deployment "will destroy the balance in Northeast Asia and the Pacific region."

"The radar is not aimed at just us," Pak said. "It is also aiming for China and Russia."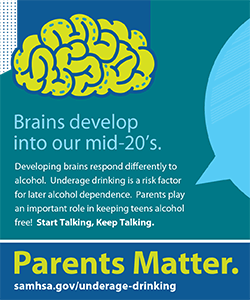 China's assertiveness in the East China Sea, where it has a territorial row with Japan, and the South China Sea, where it has disputes with the Philippines and several other Southeast Asian nations, were also on the agenda during Tillerson's visit.

Tillerson's visit to Tokyo came as Abe's government battles a domestic scandal over a nationalist school. Following weeks of questions in parliament about the affair, support for Abe fell five points to 50 percent, a weekend poll by the Mainichi newspaper showed, off highs hit after he met Trump in Washington last month.

(Additional reporting by Christine Kim in Seoul, David Brunnstrom in Washington and Ben Blanchard in Beijing; Writing by Yeganeh Torbati; Editing by Raju Gopalakrishnan and Nick Macfie)
[© 2017 Thomson Reuters. All rights reserved.]
Copyright 2017 Reuters. All rights reserved. This material may not be published, broadcast, rewritten or redistributed.