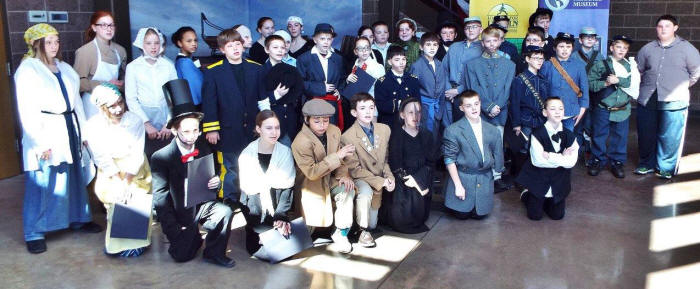 Fifth-graders learn through historical portrayals at Lincoln Heritage Museum


Send a link to a friend Share
[March 17, 2017] LINCOLN - On Friday last week fifth grade students from Northwest, Washington-Monroe and Central schools took a walk back in time. The District 27 students participated in an historical learning activity "A Walk Through the 1860s" held at Lincoln Heritage Museum on the Lincoln College Campus on Friday.
Students performed in both the upstairs and downstairs galleries of the museum. Each student came prepared cast in a character role. They shared information about the Civil War era. There were soldiers, military officers, doctors and nurses and noted persons of influence.

Greeting guests at the first stop were President Abraham Lincoln and his wife, Mary Todd. At various stations, groups of students shared what they saw in battle, why there was a war, and the conditions of the country at that time.

Each student took their turn telling the story of the character they represented, and as they did so, the other students would bow their heads or step back into a line with the other students and wait in silence until their next turn to speak.

A number of guests flowed through the museum, some looking for a student they knew who was performing.

The Washington Monroe students who presented at 10:45 a.m. are represented in the slide show.
The Washington Monroe students who presented downstairs were:

Alissa Baldwin
Ron Barth
Dakota Bennett
Connor Brummell
Brayden Buss
Colin Centers
Austin Durkee
Carson Franz
Cydney Haynes
Gage Hodges
Alexa Kelley
Hailie Koontz
Wyatt Mammen
Autum Osland
Korinn Pardo
Ethyn Parn
Oliviah Wilkerson
Teacher: Mrs. Courtney Snow
Washington Monroe students presenting upstairs:

Tristyn Barger
Lucas Barth
Shyanne Bennett
Christian Brown
Tabatha Gee
Zen Gibson
Kasey Huskins
Brynley Laubenstein
Kayla Lee
Ryan Lichtenwalter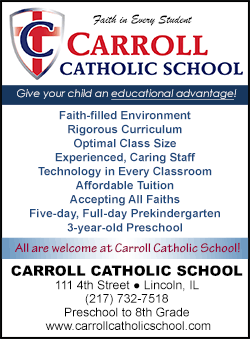 Talan McKinney
Ryan Miller
Jackson Morgan
Emma Petro
Alex Romer
Joseph Shaffer
Kylie Spence
Autumn Strohl
Wyatt Wilkerson
Xavier Wood
Teacher: Miss Kate Ewing
When through with performing, the students all gathered for a reading of the Gettysburg Address. Several students were sent up to the balcony of the atrium to read in turn, while most of the crowd remained below to listen to the speech which was written by Abraham Lincoln declaring freedom for all people in our country.

As a closing activity, the students were gathered together in the atrium for a period of review and reflection led by Assistant Director of the Lincoln Heritage Museum Anne Moseley and Director Tom McLaughlin. Asked about what was a surprise to learn, one student commented that most soldiers did not die in battle, but rather from illness. Moseley agreed she was surprised by this also and expounded more on why that was, which included the lack of clean water on the field.

The students performed well and engaging in their roles. They clearly enjoyed the adventure coming to understand a key turning point in our country's history, the Civil War, by way of experiential learning.

[Jan Youngquist]