Prayer service: 1:30 p.m. Sunday March 19, 2017 at Fricke-Calvert-Schrader, Lincoln
Visitation: 2:00-4:00 p.m. Sunday at the funeral home
Service: 11:00 a.m. Monday March 20th, at the funeral home
Funeral home: Fricke-Calvert-Schrader, Lincoln
Obituary
Phyllis A. "Pat" Hickey, 84, passed away at her home in Lincoln at 9:18 a.m. on March 16, 2017 surrounded by her loving family.

Phyllis was born on December 29, 1932 in Urbana, OH; daughter of Marion and Bertha (Huffman) Detwiler. She married T. Edward Hickey on June 29, 1957 in Lincoln. He survives her.

Also surviving is her daughter: Debbie (Ron) Ackerman of Lincoln, her siblings: Richard (Jane) Detwiler and Kathryn Sapp both of Urbana, OH; sister-in-laws: Adele Detwiler of St. Paris, OH and Pauline Williams of Lincoln, three grandchildren: Chris (Katelyn) Ackerman of Plainfield, Craig (Ellen) Ackerman of Lincoln, and Sarah Fuller of Columbia, MO; several nieces and nephews. She was preceded in death by her parents, one daughter: Lisa Fuller, three brothers: Donald, John, and Thomas Detwiler, and one sister-in-law: Phyllis Smith.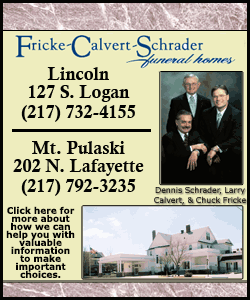 Pat worked at Lehn and Fink and State Bank of Lincoln, where she retired from after 29 years of service. She loved to read and spend time with friends and family.

Services for Pat will be 11:00 a.m. Monday March 20, 2017 at Fricke-Calvert-Schrader Funeral home in Lincoln, with Rev. Jeffrey Laible officiating. Visitation will be from 2:00-4:00 p.m. Sunday March 19, 2017 also at the funeral home. There will be a prayer service at 1:30 p.m. Sunday March 19, 2017, a half hour prior to visitation. Burial at Holy Cross Cemetery will follow the service on Monday.

Memorials may be made in Pat's name to Memorial Home Hospice.
Click here to send a note of condolence to the family of Phyllis A. "Pat" Hickey