Well-chilled Lincoln Lakes excites 2017 Polar Plungers
Send a link to a friend Share
[March 22, 2017] LINCOLN - On Saturday, a number of volunteers and divers gathered for the Annual Polar Plunge at Lincoln Lakes, which is to raise money for the Special Olympics. There were many volunteers working with the Plunge this year as 115 brave people jumped into frigid 47 degree water.
Before people took the plunge, John Malone said a few words about the plunge and the money it raises for Special Olympics. Many community sponsors and donations raised by all the participants make the event possible.

Then Leslie Bennett sang the National Anthem.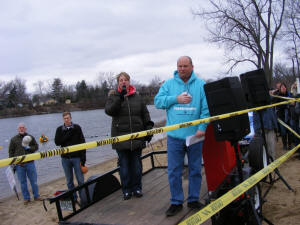 The plungers ran into the waters as they were announced team by team. Much screaming and laughter erupted from the participants as they hit the cold water, which was then followed by crowd cheers as they exited the water.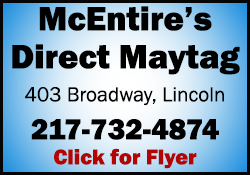 Team members dressed in various creative and interesting costumes, which adds to the fun of the event. Elsa from Frozen won a best costume award. As everyone knows, the cold doesn't bother her anyway.

Following their plunge, participants returned to the Knights of Columbus for a warm lunch and awards.

After the plunge, all the teams returned to the Knights of Columbus for a lunch and awards celebration.
Joanie Keyes, Illinois District 10 Special Olympics director announced award winners. Awards were given for the most money raised by teams and individuals, best costume for both teams and individuals, oldest plunger, spirit award, and honorary plunger.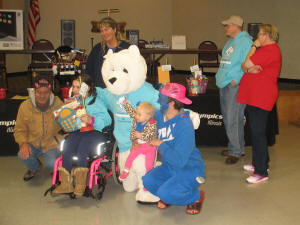 Team Lexie, which has been plunging for several years, took home awards for having the best team costumes, most plungers on the team, most money raised by a team. Their 34 team members raised $6,488.

Cold and breezy weather does not deter the many who raise several thousand dollars a year for Special Olympics.

[Angela Reiners]