Surplus will shrink with age, Germany says, but don't blame us for being efficient
Send a link to a friend Share
[March 23, 2017] By Joseph Nasr

BERLIN (Reuters) - Germany has launched a two-pronged attack on U.S. President Donald Trump's charge that its current account surplus is too high -- don't blame us for being good at what we do, and our aging population is going to eat it all up anyway.

The finance ministry said in its monthly report on Thursday that as Germany's society ages fast, its swelling senior population will be more inclined to spend at home rather than save abroad, boosting consumption and shrinking the surplus.

"In a society where aging is growing, savings -- including capital invested abroad –- will fall as pensioners use that to finance their consumption in Germany," it said. "This will probably reduce the current account surplus and could even turn it into a deficit."

At the same time, it said that the surplus -- which irks the International Monetary Fund and many in Europe as well -- was the result, frankly, of Germany being better than others at business.

It said it was down to the competitiveness of the German economy over which the government had no influence. "The current account in Germany is not controlled by the state," the ministry said.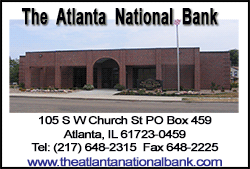 The new U.S. administration has accused Germany of exploiting a weak euro <EUR=> to gain a trade advantage and has called for bilateral discussions to reduce the $65 billion U.S. trade deficit with Germany.

Many Europeans, meanwhile, reckon Germany's surplus epitomizes the imbalances of the euro zone, in which productive Germany drives ahead of less competitive, primarily southern countries in the bloc.

Graphed over the past 20 years, the U.S.-German gap indeed looks like the open jaw of an alligator. http://bit.ly/2mXdIUv

But Germany's main new pitch is that the jaw will snap shut when demographics kick in.

OLD AND WEALTHY

Economists say there is some truth -- at least in theory -- to Germany's claim that demographics will put negative pressure on the current account surplus.

Some 21 percent of Germany's 82-million population is aged 65 or more, a figure projected to rise to 27 percent by 2030.

But more active measures like boosting government and corporate spending would give more credibility to German efforts to counter the criticism of its disproportionately strong exports sector.

"All in all, it is a valid argument but falls short explaining the entire story. More investments, both by the private and public sector would make the story much more convincing," said ING-Diba economist Carsten Brzeski.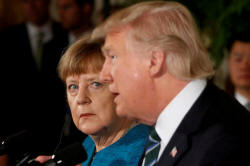 Germany's Chancellor Angela Merkel and U.S. President Donald Trump hold a joint news conference in the East Room of the White House in Washington, U.S., March 17, 2017. REUTERS/Jonathan Ernst/File Photo
He added: "Not only for the U.S. administration but also for the German economy, which would be the main beneficiary from such a policy change."

Brzeski said that Japan, whose population is older than Germany's, still has a high current account surplus. This doesn't bode well for German arguments that demographics will depress the surplus.

The finance ministry said that in addition to demographics, increased private consumption and an eventual normalization of the European Central Bank's expansionary monetary policy were also likely to narrow the surplus.
But economists say the government could spend more on education and digital infrastructure, which would in turn prod German companies sitting on billions of euros in savings to invest in factory modernizations and new machineries.

"Raising public spending is one measure to encourage companies to raise investments. We are on the right path but more needs to be done to get companies to invest," said Simon Junker of the German Institute for Economic Research (DIW).

The finance ministry said the current account, which stood at 8.3 percent of output in 2016, would fall to 8 percent by 2018. It stood at 8.6 percent of gross domestic product in 2015.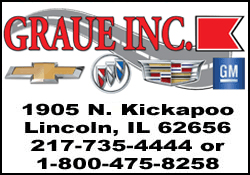 In 2016, the German trade surplus hit a fresh record at 252.2 billion euros ($272 billion), according to the Federal Statistics Office.

The wider current account surplus, which measures the flow of goods, services and investments into and out of a country, rose to an all-time high of 261.4 billion euros, Bundesbank data showed.

(Additional reporting by Michael Nienaber and Daniel Felleiter; Editing and graphic by Jeremy Gaunt)
[© 2017 Thomson Reuters. All rights reserved.]
Copyright 2017 Reuters. All rights reserved. This material may not be published, broadcast, rewritten or redistributed.