Visitation: 5-7 p.m. Friday, March 24, 2017, at Holland Barry & Bennett Funeral Home
Service: 10 a,m. Saturday, March 25, 2017, at the funeral home
Funeral home: Holland Barry & Bennett Funeral Home
Obituary
Judith Anne ( Eimer) Connor, 77, of Beason, passed away March 17, 2017, at St. Clara's Manor.

Visitation will be from 5-7 p.m. Friday, March 24, 2017, at Holland Barry & Bennett Funeral Home. Funeral services will be at 10 a,m. Saturday, March 25, 2017, also at the funeral home with Ryan Edgecombe officiating. Burial will follow in Harmony Cemetery.

Both Judy's parents John Jacob Eimer and Opal (Devine), along with her older brother, were born in or around Lincoln. In the mid-1930s they moved from Lincoln to Dubuque Iowa where Judy was born on February 17, 1940. She grew up there working in her parents' florist business, Eimer's Greenhouse.

In her late teens, she married Jack Schueller and had her first son, Randy. Sadly she was widowed at the young age of 20.

A few years later she was remarried to Jerry Connor and moved to Illinois. She and Jerry had two more sons over the next several years, Bill and Steve. They lived in various small towns in central Illinois before settling down outside of Lincoln in Jerry's hometown of Beason.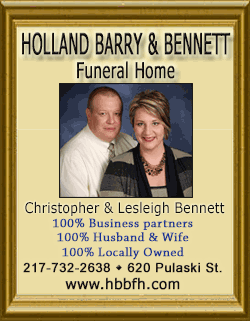 After raising three sons, Judy went to work at the Lincoln Medical Center where she was in charge of medical records. She retired in 2000.

Judy enjoyed annual vacation trips to the Ozarks with family and friends, and for several years she and Jerry would spend much of the winter months in Cancun.

Survivors include her husband Jerry Connor of Beason; sons Randy ( Nadia) Schueller of Park Ridge, Bill Connor of Springfield, and Steve ( Anna) Connor of Lincoln, grandchildren: Matt Schueller, Nicole Schueller, Laura Connor, Ryan Connor, and Evan Connor. Her brother John Eimer Jr. of Lincoln also survives.

She was preceded in death by her parents and her infant sister Phyllis Eimer.

Memorial donations may be made to St. Clara's Manor and will be accepted at the funeral home.

Click here to send a note of condolence to the family of Judith A Connor