Bulls top Pistons to keep hope alive
Send a link to a friend Share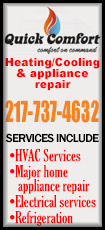 [March 23, 2017] CHICAGO -- They didn't have two of their best big men, so the Chicago Bulls made up for their lack of size against the Detroit Pistons with great shooting.

Paced by Nikola Mirotic's season-high 28 points and a 58.8 percent shooting performance as a team, the Bulls kept their playoff hopes alive with a 117-95 victory Wednesday night at the United Center.

The Bulls (34-38) pulled even with Detroit (34-38) for ninth in the Eastern Conference, and both teams are now 1 1/2 games behind the Miami Heat (35-36) for the eighth and final playoff spot.

"We are trying to stay together," said Mirotic, who shot 12 of 15 from the field and drilled four of six 3-pointers. "After a tough loss (Tuesday) night, we came here to play like a team, because there is no more time to blow chances like that. We need to win the rest of our games."

The Bulls blew a 15-point lead in the fourth quarter Tuesday at the Toronto Raptors and lost 122-120, which dropped their record to 2-8 in their previous 10 games. This time, there was no late collapse.

Chicago led 59-53 starting the third, pulled away by outscoring Detroit 32-20 in that quarter and sprinted to the finish in the fourth. The Bulls dished out a season-high 36 assists, their most in a regulation game since Feb. 22, 2013, and committed just 11 turnovers.
The took control of the tiebreaker against Detroit based on each team's record within the Central Division. Chicago is 7-7 against division opponents and the Pistons are 5-10.

"The message I gave them (after the game) was that we have 10 games left," Pistons coach Stan Van Gundy said. "We have to change what we're doing or it's going to get ugly."

It wasn't pretty for Detroit in the third, that's for sure.

Mirotic scored 12 points in that quarter on 5-of-6 shooting from the field, including 2-of-3 from the 3-point line, and the Bulls pushed their lead out to as much as 21 points. Mirotic added five more points in the fourth, when Chicago maintained its double-digit lead.

His performance was a big reason Chicago didn't miss starting center Robin Lopez, who served a one-game suspension for a fight Tuesday with Raptors forward Serge Ibaka. The Bulls were also without Lopez's main backup, Cristiano Felicio, who sustained a lower back contusion against Toronto.

"I think the big thing is (Mirotic) hit his first couple shots," Chicago coach Fred Hoiberg said. "He was off and running. I thought he let the game come to him. He did not take forced shots."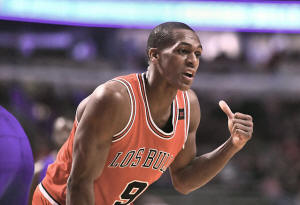 Bulls guard Rajon Rondo (9) reacts against the Detroit Pistons during the second half at the United Center. Mandatory Credit: Mike DiNovo-USA TODAY Sports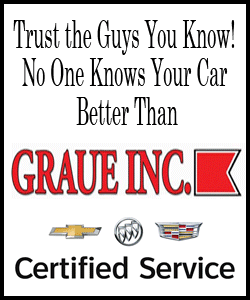 Neither did a cast of other role players for the Bulls, who filled the size gap admirably by outscoring Detroit 58-44 in the paint and 22-11 on fast breaks. Mirotic joined the starting lineup in Lopez's absence, and so did forward Joffrey Lauvergne -- making his first start in a Bulls uniform.
Lauvergne started at center for Lopez and helped the Bulls hold Detroit center Andre Drummond to eight points on 4-of-12 shooting. Drummond grabbed 17 rebounds, but it wasn't enough for the struggling Pistons, who lost for the second time in as many days and have dropped five of their past six games.

"I'm not finding the answers," Van Gundy said. "I'm the guy who selected all the guys in the locker room. I'm the one who decides who's going to play. I'm not putting myself outside and blameless for this. We're just not playing well at all."

Lauvergne tied his season-high with 17 points and grabbed seven rebounds for Chicago. Paul Zipser had 15 points, and Jimmy Butler finished with 16 points and 12 assists for his second double-double in as many games. Denzel Valentine (eight points) and Bobby Portis (12 points) led Chicago's bench scoring.

Tobias Harris and Marcus Morris each had 14 points to lead Detroit, which also got double-figure scoring off the bench from Jon Leuer (13 points) and Stanley Johnson (12 points).
NOTES: Chicago coach Fred Hoiberg defended Robin Lopez after the Bulls center was suspended one game for a fight Tuesday with Toronto Raptors F Serge Ibaka. "He's got a fire to him you just don't ever want to take away," Hoiberg said. "This game gets very competitive, obviously. It was unfortunate what went down, but we've all got Robin's back." ... The Bulls honored former general manager Jerry Krause with a moment of silence prior to the game. Krause, who constructed six NBA championship teams, died Tuesday at age 77. ... Pistons G Michael Gbinije missed his seventh game with a left ankle sprain.
[© 2017 Thomson Reuters. All rights reserved.]
Copyright 2017 Reuters. All rights reserved. This material may not be published, broadcast, rewritten or redistributed.