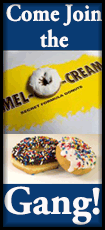 Established in 2015 by his children Janine Maxwell of Springfield and Jeff Maxwell of Lincoln, this annual $500 scholarship is designed to provide financial aid to a deserving LCHS Senior who has shown promising academic ability, dedication to extracurricular activities, participation in community service, and who is planning a career in education.

Applications are available in the Guidance Office at LCHS and are due and should be submitted to the school superintendent by April 7th. The recipient will be awarded a plaque at the Senior Awards Ceremony in May.

Last year's award recipient was Cooper Hake.
[Text provided by Jeff Maxwell]