Visitation: 2 p.m. to 3 p.m. Sunday, April 2, 2017 at the United Methodist Church in Mount Pulaski
Celebration of Life Service: Sunday April 2 at 3 p.m. at the church
Funeral home: Fricke-Calvert-Schrader, Mount Pulaski
Obituary
Dorothy Coleen Schilt, 89, of Mount Pulaski, passed away Sunday, March 12, 2017, at Abraham Lincoln Memorial Hospital in Lincoln.

Dorothy Coleen Schilt was born April 7, 1927, in West Salem, to Daisy Wilma (Smith) and Victor Paul Kerster. She graduated from West Salem High School in 1945. She taught in one-room schools in West Salem for two years following her graduation. She married Paul E. Schilt in West Salem on July 10, 1947. He preceded her in death on May 5, 2007.

Dorothy had been a child care aide at Lincoln Developmental Center, and later a nursing assistant at Horizon Hospital in Pinellas Park, Florida, before retiring in 1989. At Horizon Hospital, she was highly regarded by residents and staff, earning an Employee of the Year award.

Dorothy enjoyed sewing, crafts, birdwatching, picture-taking, the daily news, and especially, spending time with her family. She delighted in vegetable and flower gardening, and for many years grew and sold hybrid iris bulbs. In recent years, she enjoyed telling stories of her childhood on a family farm (without running water or electricity) and teaching in one-room schools immediately after WWII.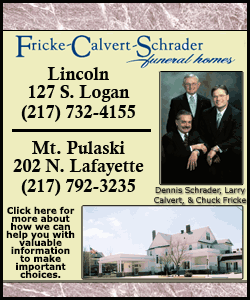 She is survived by two daughters, Heidi C. (Mark) McCormick of Mount Pulaski, and Arlene Rose (Jeff Burgett) Schilt of Honolulu, HI; her son, F. Steven Schilt of Mount Pulaski and Portland, OR; sister, Betty Matthes of West Salem, brother, Richard (Ida Mae) Kerster of Naperville, brother-in-law Wayne D. (Bonnie) Schilt of West Salem, granddaughter, Elyse C. McCormick of Mount Pulaski; and many nieces and nephews.

In addition to her parents and husband, Dorothy was preceded in death by two infant brothers; sister, Wilma Holsapple; brother, William Kerster; and one nephew and four nieces.

The celebration of life services will be held at 3:00 p.m. Sunday, April 2, 2017 at the United Methodist Church in Mount Pulaski, with Rev. Zoila Marty officiating. Visitation will be from 2:00 p.m. to 3:00 p.m. (one hour prior to service). Interment will be at Macedonia Cemetery in West Salem, at a later date.

The family thanks Fricke-Calvert-Schrader Funeral Home for their assistance.

In lieu of flowers, donations in Dorothyís memory may be made to the Mount Pulaski Library, the Lincoln Logan Food Pantry, or the donorís choice.
Click here to send a note of condolence to the family of Dorothy C. Schilt