Ducks beat Rangers, move to top of Pacific
Send a link to a friend Share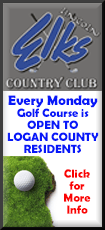 [March 27, 2017] ANAHEIM, Calif. -- With two weeks left in the regular season, the Anaheim Ducks took sole ownership of first place in the Pacific Division for the first time in two months.

Andrew Cogliano and Patrick Eaves scored two minutes apart early in the third period to give the Ducks 6-3 win over the New York Rangers on Sunday night at the Honda Center.

Eaves scored twice and Ryan Getzlaf contributed four assists, one fewer than his career high, as the Ducks (41-23-11) used their eighth win in 10 games to take a two-point lead on the idle Edmonton Oilers and San Jose Sharks.

"Coming out of that bye week, everything felt better," Getzlaf said. "The start of the year was a little bit tough. We were finding ways to win a game here and there, but we weren't playing with that consistency. I thought that break was good for us. We had a good, relaxing time and we came back ready to play."

Getzlaf's performance has been pivotal in Anaheim's surge. Since March 1, Getzlaf has accumulated 20 points in 12 games, with 17 coming on assists.

"Getzy's playing out of his mind right now," Eaves said. "Just the way he possesses the puck, it makes it really easy to play on his line. We've got Ricky (Rakell) flying and making plays so I feel we're getting some chemistry, and that's what I was hoping."
Josh Manson, Ryan Kesler and Nick Ritchie also scored for Anaheim. Goalie Jonathan Bernier picked up his fourth consecutive victory and his eighth in nine decisions by stopping 25 shots.

Rick Nash, Derek Stepan and Brady Skjei scored for the Rangers, who have lost five of seven. Goalie Henrik Lundqvist made 28 saves in his first game since March 7 when he strained his left hip.

"Overall, I felt OK," Lundqvist said. "There are a couple of reads I could do better on the odd-man rushes, how aggressive I should be. You don't feel as comfortable. But they made some good plays and we made some mistakes that they cashed in."

Cogliano broke a 3-3 tie 2:19 into the third period. After winning the draw at the right circle in the Rangers' zone, Kesler immediately sent a shot to the net. Lundqvist made a stick save, but Cogliano deposited the rebound for his 16th goal this season.

"That play surprised everyone," Lundqvist said.

Then at 4:23, Eaves scored his second goal of the game. Getzlaf stole the puck from Michael Grabner after Grabner fanned his shot and began a two-on-one breakaway that Eaves ended by redirecting Rakell's pass inside the left post.

The Rangers (46-26-4) pulled Lundqvist for an extra attacker with three minutes to play, but Ritchie scored his 13th goal of the season into an empty net with 1:38 remaining.

"We let our guard down on a couple of plays and they made us pay," Rangers defenseman Ryan McDonagh said. "In general, we weren't pretty sharp with our passing and they looked a step quicker than us, as far as coming up with pucks and controlling the play more."

Nash's 22nd goal of the season gave New York a 1-0 lead 5:54 into the game. After Marc Staal's pass from the Rangers' zone freed Nash for a two-on-one breakaway, Nash fired a wrist shot from the top of the right circle. Bernier closed his legs, but the puck ricocheted off the inside of his left knee and trickled slowly into the net.

"When you play the Eastern teams, it's a bit of a different game," Getzlaf said. "They do a lot more of flipping the puck, skating onto it, those kind of things. Sometimes it takes a little bit to get adjusted to that."

[to top of second column]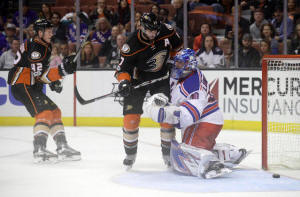 Ducks defenseman Josh Manson (42) scores a goal as center Ryan Kesler (17) is in front of New York Rangers goalie Henrik Lundqvist (30) during the second period at Honda Center. Mandatory Credit: Gary A. Vasquez-USA TODAY Sports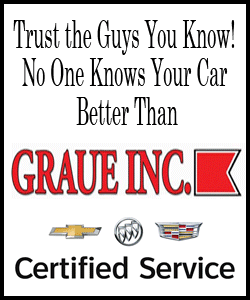 About three minutes later, Eaves tied the score by converting the rebound of Cam Fowler's shot from the blue line. Eaves' goal at 8:55 was his 26th of the season and his fifth since being traded by the Dallas Stars on Feb. 24.

The Rangers regained a 2-1 lead on Stepan's 15th goal of the season. Chris Kreider began the scoring sequence and started a three-on-one breakaway by beating a slipping Manson to the puck in the neutral zone. Stepan finished the play with a wrist shot from the left post under the crossbar at 14:32.

Then with two minutes left in the first period, Kesler tied the score on the power play. While stationed in the slot, Kesler used the blade of his stick to deflect Getzlaf's slap shot from the blue line. Video replay confirmed that Kesler's stick remained below shoulder level and he had his 21st goal of the season.

Manson gave Anaheim its first lead with a short-handed goal 9:39 into the second period. Getzlaf began the play by intercepting Mika Zibanejad's no-look backhanded pass in the Ducks' zone. Getzlaf then skated along the right boards and passed to Manson, who dragged a shot from the slot for his fifth goal of the season.

But Zibanejad made amends by starting the sequence that led to Skjei's tying goal. Zibanejad intercepted Hampus Lindholm's pass and began a three-on-two breakaway. Skjei, trailing the play, received Jimmy Vesey's pass and fired a shot from the slot at 13:10 of the second period for his fifth goal of the season on his 23rd birthday.

NOTES: New York scratched D Dan Girardi, LW Tanner Glass, D Adam Glendenning, D Steven Kampfer, RW Brandon Pirri and LW Matt Pumpel. ... Rangers D Kevin Klein returned to the lineup after missing the past 16 games with a back injury. ...The Rangers' 27 road wins are the most in the NHL this season and one shy of a team record. ... The Rangers and Ducks are two of just four teams that have won at least 40 games in each of the past four seasons. The Chicago Blackhawks and Pittsburgh Penguins are the others. ... Anaheim scratched RW Jared Boll, G John Gibson and D Korbinian Holzer. ... The Ducks will begin their final road trip of the season Tuesday night, a four-game swing through Vancouver, Winnipeg, Edmonton and Calgary.
[© 2017 Thomson Reuters. All rights reserved.]
Copyright 2017 Reuters. All rights reserved. This material may not be published, broadcast, rewritten or redistributed.