Turner sparks Pacers in win over 76ers
Send a link to a friend Share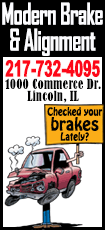 [March 27, 2017] INDIANAPOLIS -- Indiana Pacers coach Nate McMillan liked the fire he saw from second-year center Myles Turner on Sunday night.

"Myles was a little upset with how we played and how we kind of got pushed around in our last game against Denver," said McMillan of the Pacers' Friday home loss. "He certainly made that effort to defend the basket and go after boards (Sunday night). He played with a little more grit and attitude, a little nastiness in the paint. He continues to grow."

Turner scored 17 points on 7-of-9 shooting and tied his career high with 16 rebounds in the Pacers' 107-94 victory over the Philadelphia 76ers.

Indiana snapped a two-game losing streak and moved into a three-way tie for fifth with Atlanta and Milwaukee in the Eastern Conference, all at 37-36. However, right now the Pacers would have the seventh playoff seed.

"Just with my offense being a little off right now, I told myself I was going to go out and do the little things, go after every board and try to block everything. That's what I did," said Turner, who had two blocked shots. "At this point of the season, the legs are tired, shots are a little short. This is the time of year where great players power through it and that's what I'm striving to be."

Paul George scored 21 points to lead seven Pacers in double figures.

"That's the Myles we need," George said. "With his position and us playing small, that's what we need."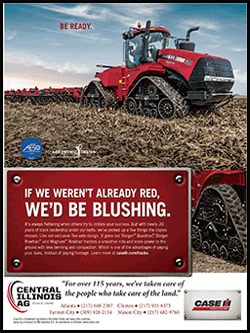 The Pacers held a 51-48 rebounding edge. McMillan said Turner's rebounds were big because Philadelphia shoots so many 3-pointers.

"With the defense being spread out like that, you need the (center) to clean up that rebound," McMillan said.

Also in double figures for the Pacers were Jeff Teague (16 points) and Al Jefferson (14). C.J. Miles, Monta Ellis and Aaron Brooks each scored 10 points.

Jefferson. a veteran center, suffered an ankle injury with 9:43 left in the fourth quarter. He was taken to the locker room in a wheelchair. However, McMillan said X-rays were negative but there is a lot of swelling, Rodney Stuckey suffered a knee injury in the fourth quarter as well, but McMillan said Stuckey was walking around after the game.

"We're crossing our fingers that Stuckey will be able to play (against visiting Minnesota on Tuesday night)," McMillan said.

The Pacers' largest lead of the game was 25 points (103-78) in the third quarter.

Sergio Rodriguez led Philadelphia (27-46) with 16 points. Robert Covington and Shawn Long each scored 15. Richaun Holmes had his third double-double with 11 points and 12 rebounds.

[to top of second column]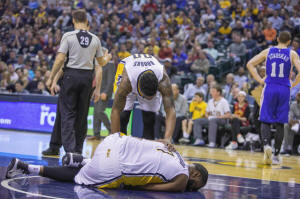 Pacers center Al Jefferson (7) is injured and lays on the floor while guard Aaron Brooks (00) checks on him in the second half of the game against the Philadelphia 76ers at Bankers Life Fieldhouse. The Indiana Pacers beat the Philadelphia 76ers 107-94. Mandatory Credit: Trevor Ruszkowski-USA TODAY Sports
"I felt that defensively there were some missed cues on a few assignments," Philadelphia coach Brett Brown said.

Brown added shooting 14 of 41 (34.1 percent) from 3-point range didn't help, either.

"It came down to them making shots and we weren't, it's pretty simple," Long said.

The Pacers, who led 51-45 at halftime, led by as many as 19 points (68-49) in the third quarter before settling for an 81-69 lead after three quarters.

"We started to make a few more shots in the second half, but the key was we were aggressive attacking the basket and getting to the free throw line," McMillan said.

Despite shooting just 37 percent from the field (17 of 46) in the first half, the Pacers led by six points at halftime. Indiana finished at 42.7 percent (38 of 89).

The 76ers shot 36.7 percent from the field (18 of 49) in the first half and 39.8 percent (35 of 88) overall.

George hit a driving layup at the first-quarter buzzer to give the Pacers a 27-18 lead. The Pacers took the lead for good at 44-43 with 4:47 left in the second quarter.

NOTES: Pacers F Glenn Robinson III missed his second consecutive game with sore left calf. Pacers coach Nate McMillan expects Robinson will be out for two more week ... After scoring just 16 points in the previous four games, Indiana C Al Jefferson had 14 points before leaving with a leg injury in the fourth quarter. ... Pacers G Monta Ellis has now scored in double figures in 15 of the past 22 games. ... Philadelphia F Dario Saric (nine points) saw his string of scoring in doubles figures snapped at 22, which is the longest streak for a rookie in the NBA this season. ... The Pacers improved 26-11 at home with four regular-season home games left.
[© 2017 Thomson Reuters. All rights reserved.]
Copyright 2017 Reuters. All rights reserved. This material may not be published, broadcast, rewritten or redistributed.