Machado launches tirade against Red Sox
Send a link to a friend Share
[May 03, 2017] (Reuters) - Baltimore Orioles infielder Manny Machado blasted the Boston Red Sox in an expletive-laden rant after pitcher Chris Sale deliberately threw at him on Tuesday in the latest episode of bad blood between the teams.

Sale fired a fastball at the knees of Machado during the first inning, prompting a warning from the umpire as the feud between the two sides continued to simmer.

"I mean, if you're going to hit me, hit me. Go ahead. Hit me," Machado told reporters after Boston's 5-2 win. "Don't let this keep lingering, and keep trying to hit people."

The Orioles and Red Sox have been involved in several on-field incidents since April 21 which Machado may have sparked when he injured Boston second baseman Dustin Pedroia with a hard slide and his feet raised.

Red Sox reliever Matt Barnes retaliated two days later when he threw a pitch behind Machado's head and was suspended for four games.

Machado, a three-time All Star, was left fuming after the latest incident.

"Coward stuff. I mean, that's the stuff you don't do," the infielder said. "They're still thinking about that same slide that I did. There was no intention on hurting anybody, and I'm still paying."

Machado said Major League Baseball should take action to impose stricter bans on pitchers intentionally hitting batters.

"You have pitchers out there with balls in their handsthrowing 100 miles per hour trying to hit people," Machado said.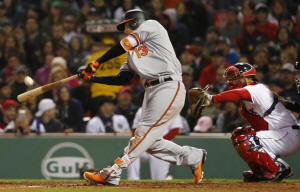 Orioles third baseman Manny Machado (13) hits a home run against the Boston Red Sox during the sixth inning at Fenway Park. Mandatory Credit: Winslow Townson-USA TODAY Sports
"I've got a bat, too. I could go up there and crush somebody if I wanted to, but you know what, I'll get suspended for a year and the pitchers only get suspended for two games.

"That's not cool."

(Writing by Jahmal Corner in Los Angeles; Editing by Greg Stutchbury)
[© 2017 Thomson Reuters. All rights reserved.]
Copyright 2017 Reuters. All rights reserved. This material may not be published, broadcast, rewritten or redistributed.