Healthy Communities Partnership urges parents to beware of drinking at prom and graduation
Drunkstopper.com helps law enforcement stop under age drinking parties


Send a link to a friend Share
[May 04, 2017] LINCOLN - It's not uncommon for parents to worry about underage drinking and their teenager's safety on the road, especially on prom night. And the prom season is upon us.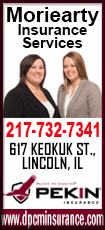 Healthy Communities Partnership reminds the community about the local DrunkStopper program as a way to be proactive and keep our children and our streets safer on prom night and every night of the year.

The program was developed in memory of 15 teens killed in nearby Tazewell County traffic crashes from March 2005 – July 2006.

Drunkstopper.com assists officers to enforce laws that pertain to underage drinking, fake IDs and illegal sales of alcohol. Community members who have information about a planned underage drinking party or any other current or potential violation are encouraged to provide tips. The website collects anonymous tips that could help save a life. Tips can also be called in anonymously at 1-866-479-2857.

HCP also reminds the community that individuals who are convicted of illegal possession or consumption of alcohol will have their driver's license suspended. Likewise, driver's licenses can be suspended if a fake ID is used to buy alcohol.
In 2013, the "Social Host Law" went into effect defining the role that parents play in keeping alcohol out of the hands of children. The law states that adults who knowingly allow alcohol consumption by minors in their home will be held responsible and are subject to a fine not less than $500.00. Further the law states that if this activity results in great bodily harm or death to any person, the individual is subject to a Class 4 felony.

Healthy Communities Partnership is a collaborative organization comprised of community agencies and private individuals striving to create the healthiest community in America. It is funded by the Abraham Lincoln Memorial Hospital Foundation. For more information call 217-605-5008.
[Angela Stoltzenburg, MBA
Marketing and Community Partnerships Manager
Abraham Lincoln Memorial Hospital
Healthy Communities Partnership]