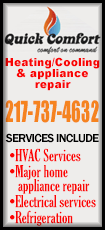 The event will be held from 8:30 a.m. to 11 a.m. at the Special Events Building at the Logan County Fairgrounds in Lincoln.

A variety of plants will be offered including perennials, prairie plants, houseplants, ornamental grasses, and small selection of annual flowers and shrubs. All items will be priced very affordably.
The doors will open promptly at 8:30, and there will be no early sales. Although there will still be a nice selection throughout the morning, those who arrive early will have the widest variety of plants from which to choose.

For questions about the sale, call the Logan County Extension office at 217-732-8289.
[Joyce L. Leesman
master Gardener Volunteer]